Let's talk about your team's productivity!
I'm the founder of Nozbe and Nozbe Teams - to-do apps for busy professionals and teams, which I've been running for the last 13 years. I'm also a writer (#iPadOnly and #NoOffice) and serial podcaster.
With the launch of Nozbe Teams I'm all about "team productivity". Basically:
I help small teams do great things by working in a truly modern way.
My team is all-remote and we all work from our "home offices" (just like the one pictured above) while delivering two global apps with more than 700,000 users worldwide.
Want to get in touch?
This site is in: English (this), Spanish and Polish
I post stuff mostly here in English, but I do sometimes write or do interviews in Polish or do webinars or public speaking in Spanish. I also speak German, for the record.
BTW, this is my new site, which I just launched. My previous site is here: Sliwinski.com.
Also - this site is free and open source. Copy anything you want, just credit me back, thanks!
Find something cool to read
Check out full archive or browse my posts by tags or topics. Gradually I'll be importing post from my old blog here. For now you can search only the new stuff:
Join my mailing list and get inspired!
Hi, I'm Michael Sliwinski, the host of this site. Enjoying my writing? Subscribe to my monthly newsletter and I'll send you digital copies of two of my books "It's All About Passion" and "No Office Apps":
Privacy and GDPR: No spam. One monthly email. Unsubscribe anytime.
Latest updates:
Friday, January 21, 2022
/now220121/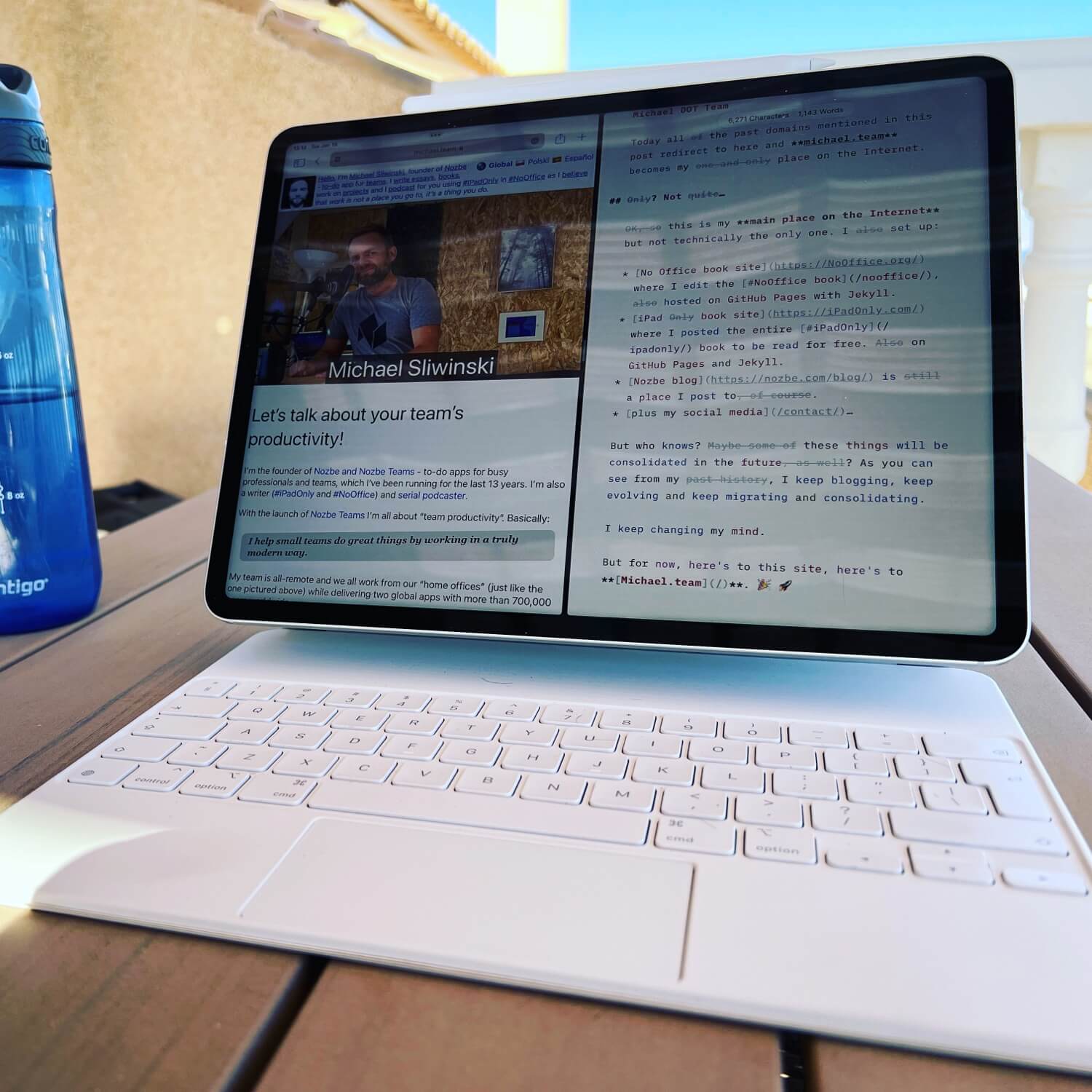 I'm embracing the new 2022 and the fact that I'll be celebrating 15 years of running Nozbe on February 1. Wow, time flies!
Thursday, January 20, 2022
/afib/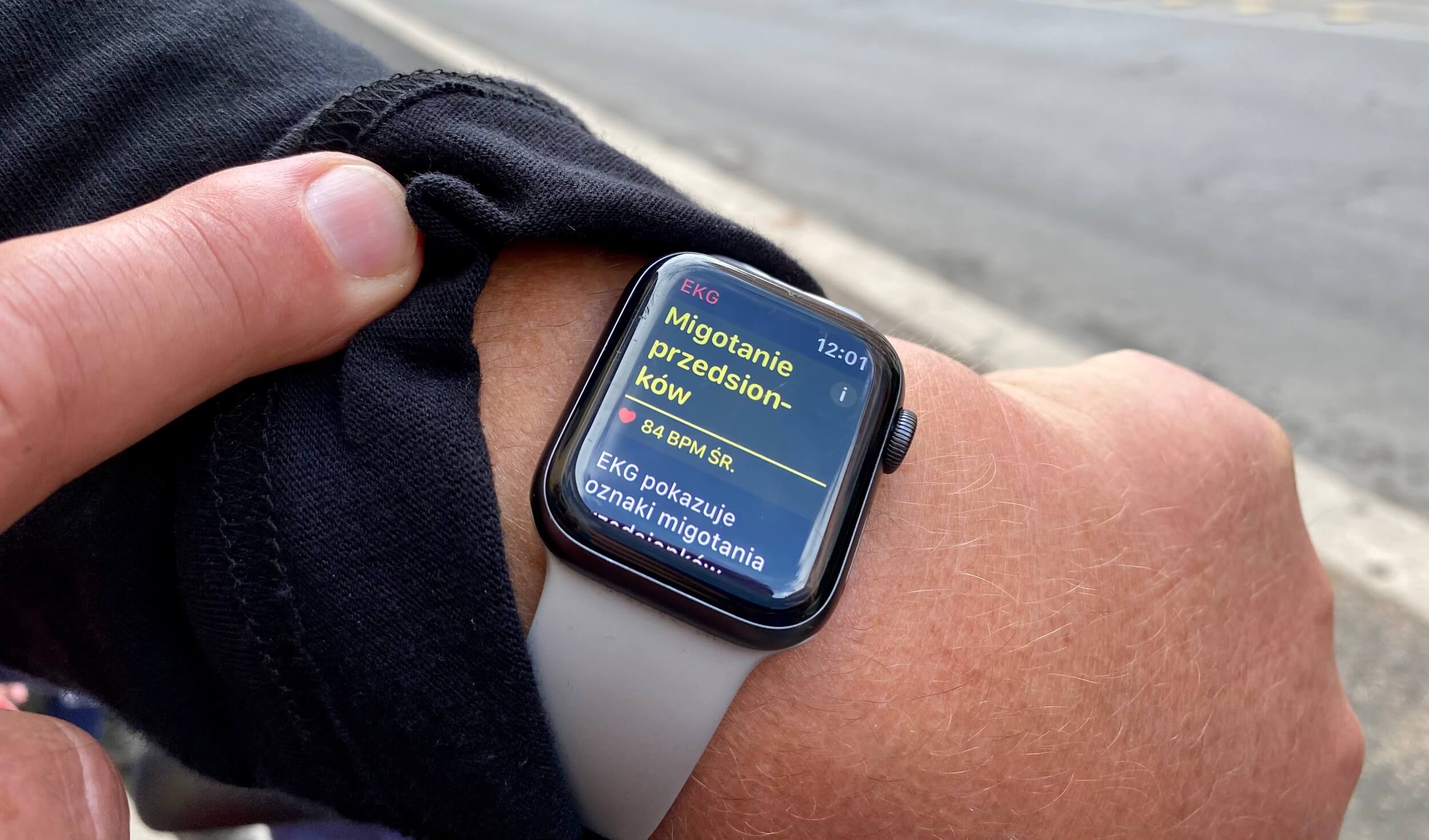 Recently a friend wrote to me asking about an interesting Christmas 🎄 gift 🎁 story and what I shared with him I decided to write up here. Especially after my recent COVID-19 analysis, I wanted to write something uplifting - how technology saves lives. Here's how the Apple Watch is keeping my dad in control of his health after a heart attack:
Wednesday, January 19, 2022
/shot/
Yesterday I got my COVID-19 booster vaccine shot and because I'm a huge fan of the Hamilton musical I decided to celebrate my 💉 by compiling all the great My Shot remixes that talk about the vaccine. The best one is coming from the doctors 🥼 themselves:
Tuesday, January 18, 2022
/sliwinski_com/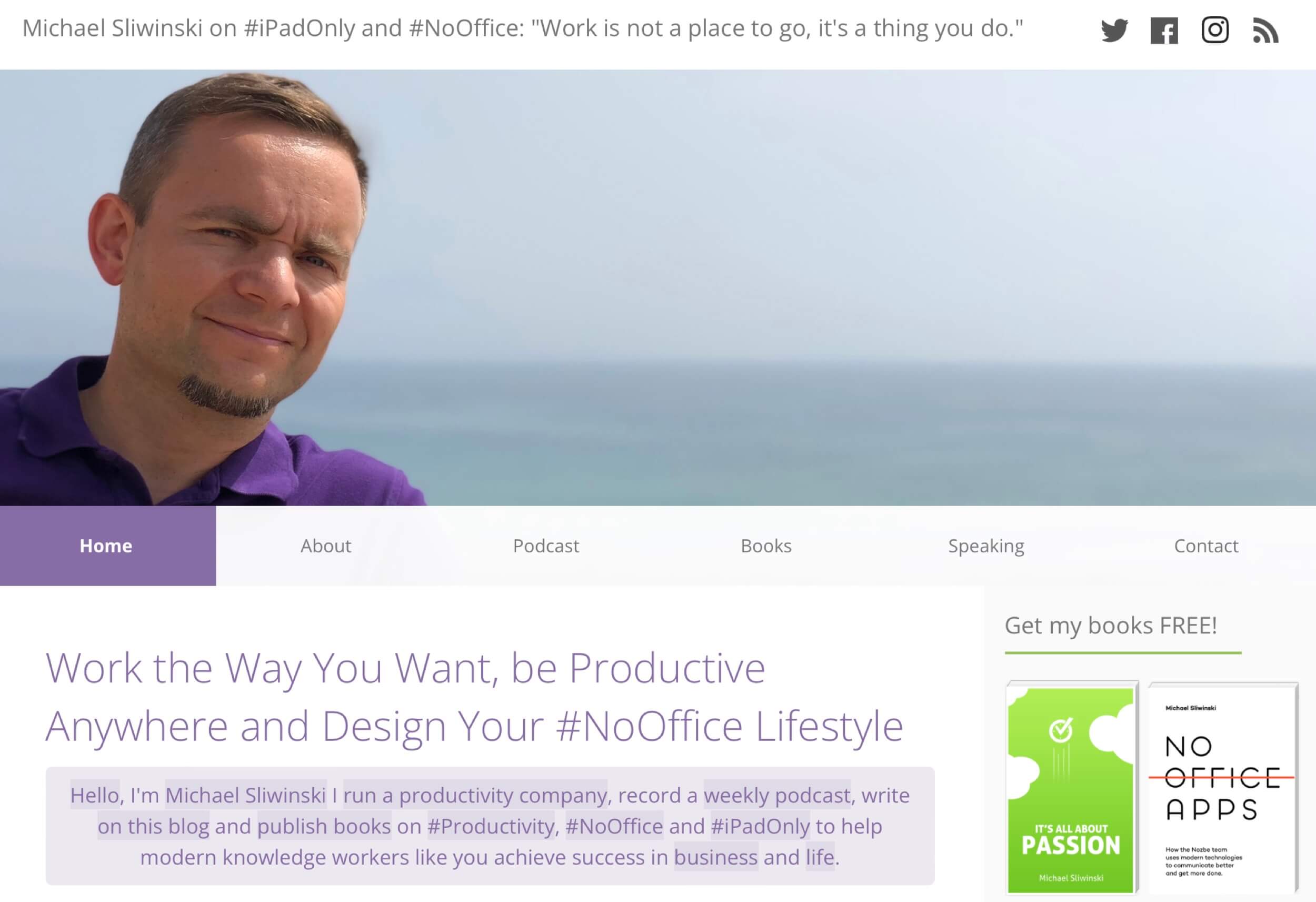 Ever since I set up this new site I wanted to migrate all of the content from my previous personal blog to here. Finally it's done. All blog posts from way back in 2008 to today are migrated, reviewed and tagged and available for you and me to enjoy. Boy, it was a long and time-intensive journey and here's how it went down:
Monday, January 17, 2022
/noofficefm-33/
Welcome to the episode #33 of my podcast about working remotely with Rafal, Nozbe's VP of Product. First podcast of the year and we talk about Rafal's new home office set up around his new MacBook Pro. Lots of great tips and tricks, similar to my home office
Wednesday, January 5, 2022
/2012best/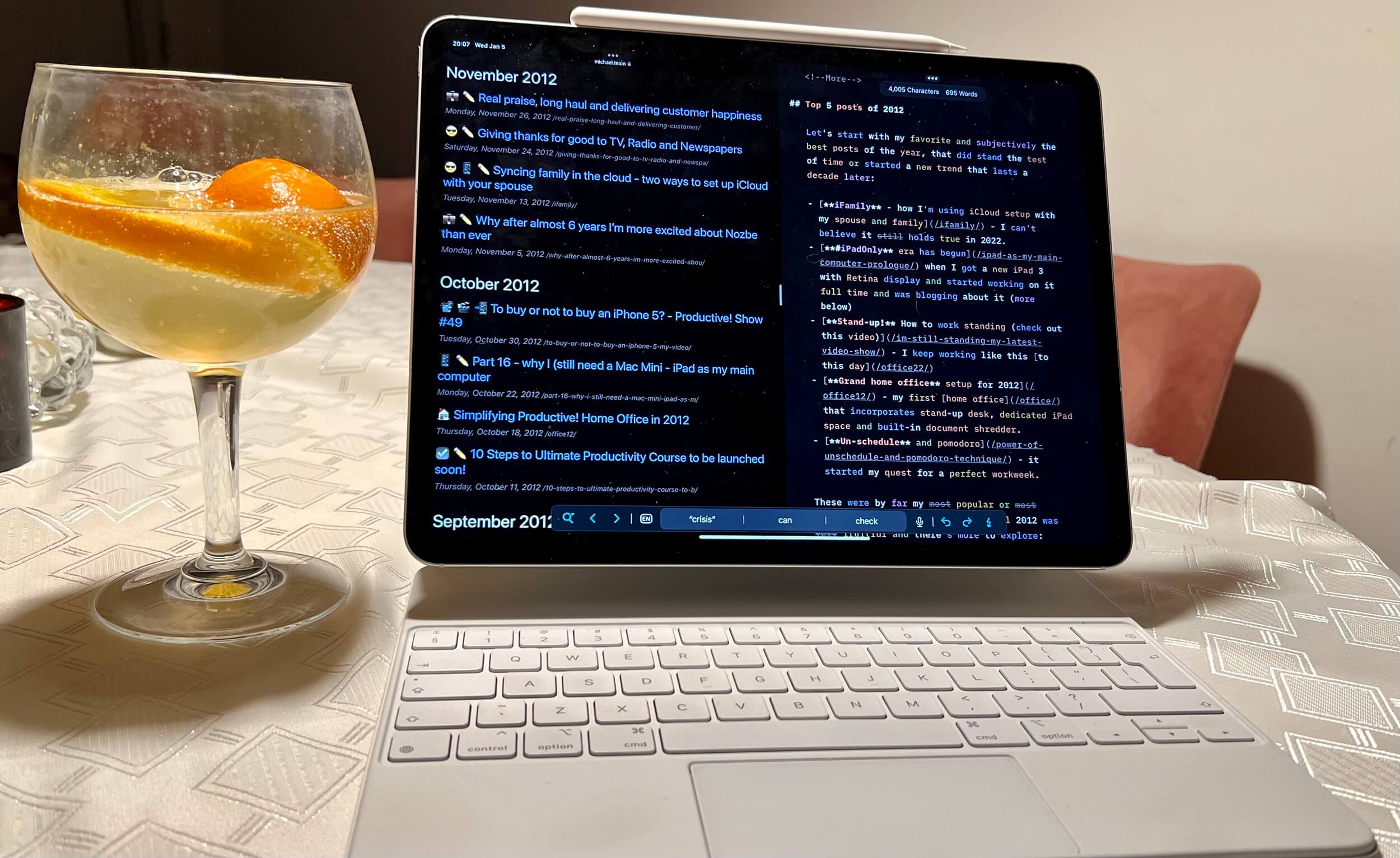 A few days ago I posted a compilation of my best posts of 2017 and I was surprised how well some of the 5-year old blog posts aged. Now as I exported old sliwinski.com blog posts from 2012, I was even more amazed how some of my writing after 10 years aged pretty well. I hope you'll agree with me and enjoy my best writing from a decade ago:
Friday, December 31, 2021
/2017best/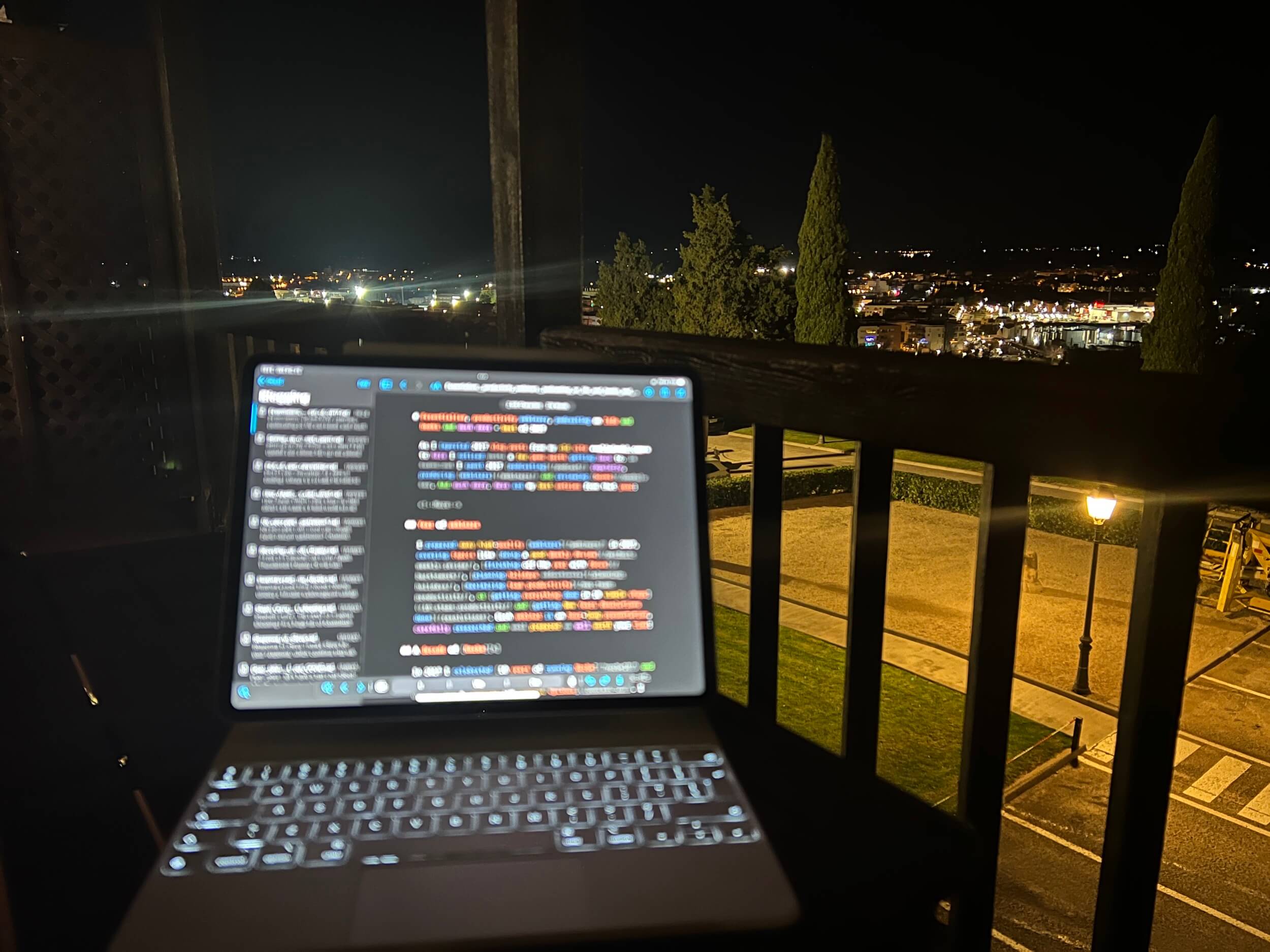 As I imported 2017 blog posts from my old site sliwinski.com to here I noticed quite a few gems worth getting back to. It turns out I spent 2017 podcasting regularly, producing webinars and reviewing books, too. And much more. Here are my best entries from that year:
Wednesday, December 29, 2021
/news-8/
As 2021 is ending I always try to take the time to disconnect, read a lot and start my yearly planning. If you're like me, you're in luck because boy I prepared things for you:
Wednesday, December 22, 2021
/display/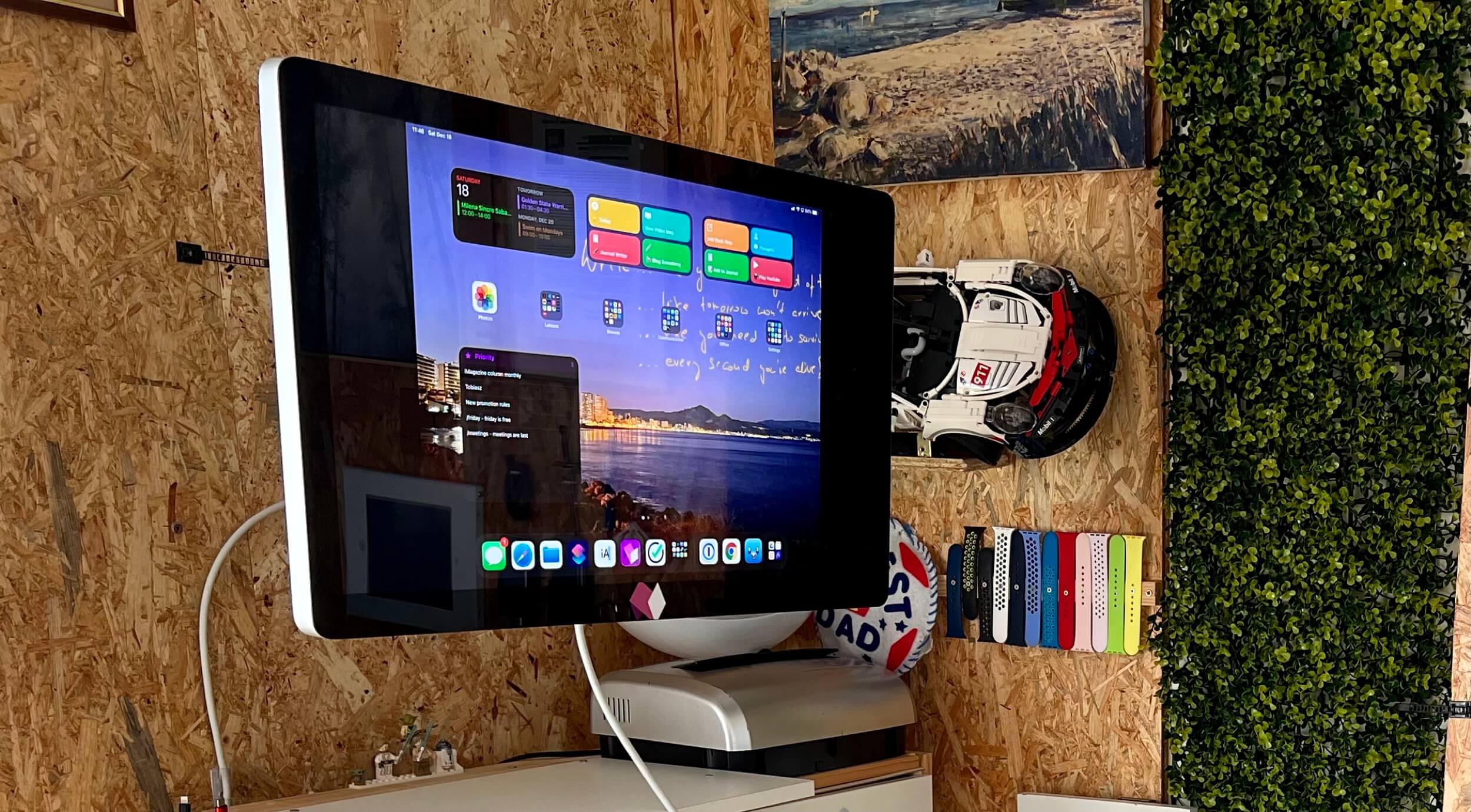 On the last episode of No Office FM podcast my co-host, Rafal, asked me about a lonely display hanging on the wall behind me. He didn't know why I had this display there. I had no good answer, until the weekend came and I figured it out. I gave my good old trusty, 10-year-old Apple Thunderbolt Display another, actually seventh, life! Just check out its history:
Monday, December 20, 2021
/noofficefm-32/
Welcome to the episode #32 of my podcast about working remotely with Rafal, Nozbe's VP of Product. I love these kinds of episodes where we pull back the curtain and show how "the sausage is made" and how we really design, decide and build Nozbe features. Listen if you want to learn from us and feel free to steal our ideas and build on them!