I've been helping small business owners and their teams maintain a work-life balance since 2007. I work from home, I don't email my team, we have few meetings and I don't work on Fridays!
My projects: ✅Nozbe to-do app and 📖#NoOffice book
Side projects: 🖋Journal, 🎲Dice, ▶️YouTube watcher and 🇺🇦FCKPTN
Latest blog posts from me:
Thursday, September 28, 2023
/nozbe-demo/
The biggest problem we face at Nozbe ✅ is that we are in business of changing habits of entire teams that need to work differently to get better results. So we decided to offer a free 30-min video call with us: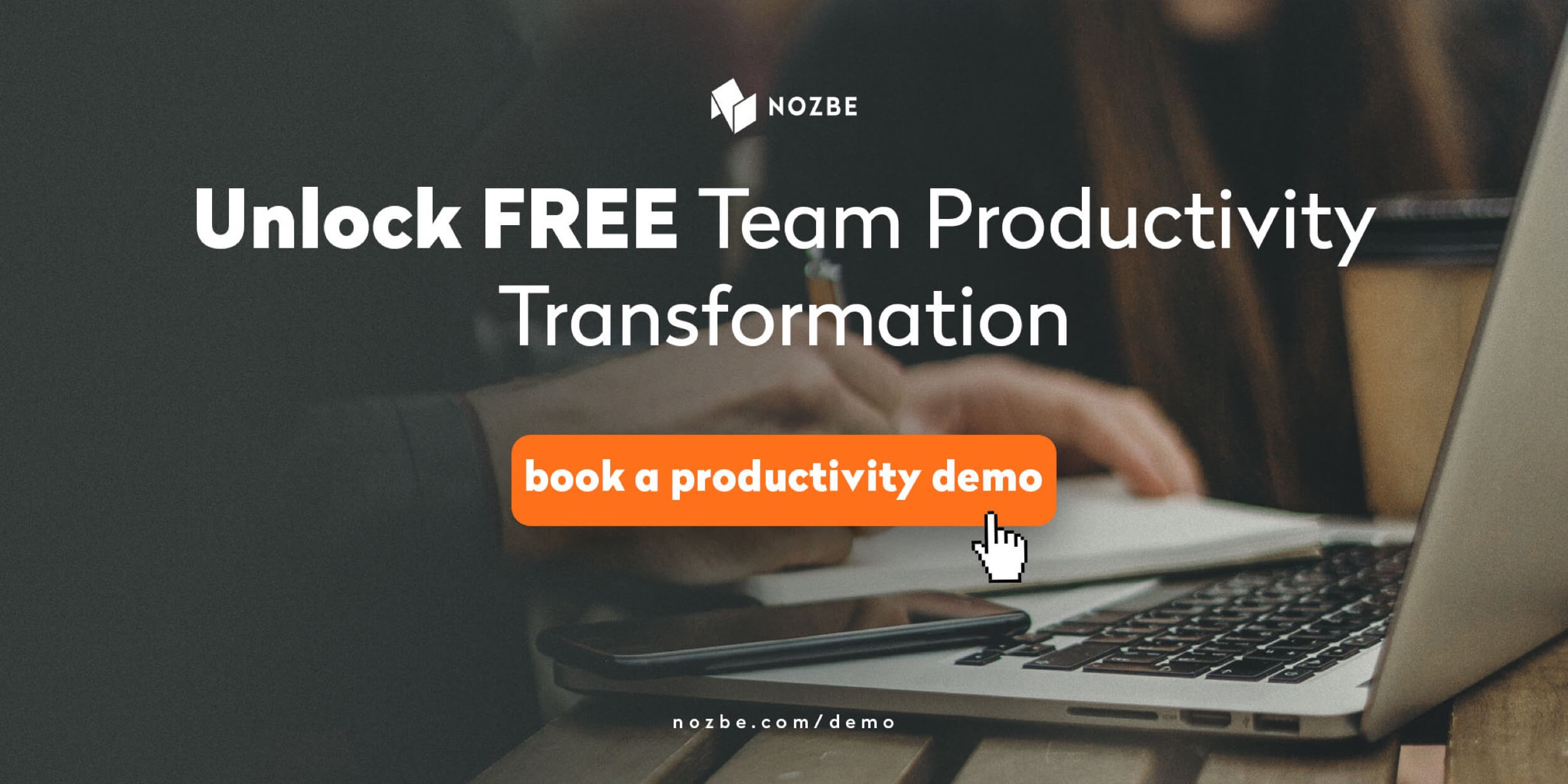 Tuesday, September 26, 2023
/noofficefm-46/
Welcome to the episode #46 of my podcast about working remotely with Rafal, Nozbe's VP of Product. My No Office FM podcast is back and I had a pleasure of interviewing Rand Fishkin about entrepreneurship and how we're running our "lifestyle business" startups, like Nozbe - listen or watch:
Tuesday, September 19, 2023
/ifamily23/
This week is all about the new iOS17 - operating system for our iPhones and iPads! Finally it's coming to our devices and at last I'll be able to split my main iCloud ID from my wife. An e-divorce of sorts. Nope, I'm not really breaking up with my wife, I love her too much… but we'll finally be able to have separate iCloud accounts because since 2012 we've been using the same main Apple ID/iCloud account on both of our iPhones. Yes, that wasn't ideal but it worked for us very well. However, as you can imagine it was also frustrating at times, so here's what iOS17 offers that finally will help us out: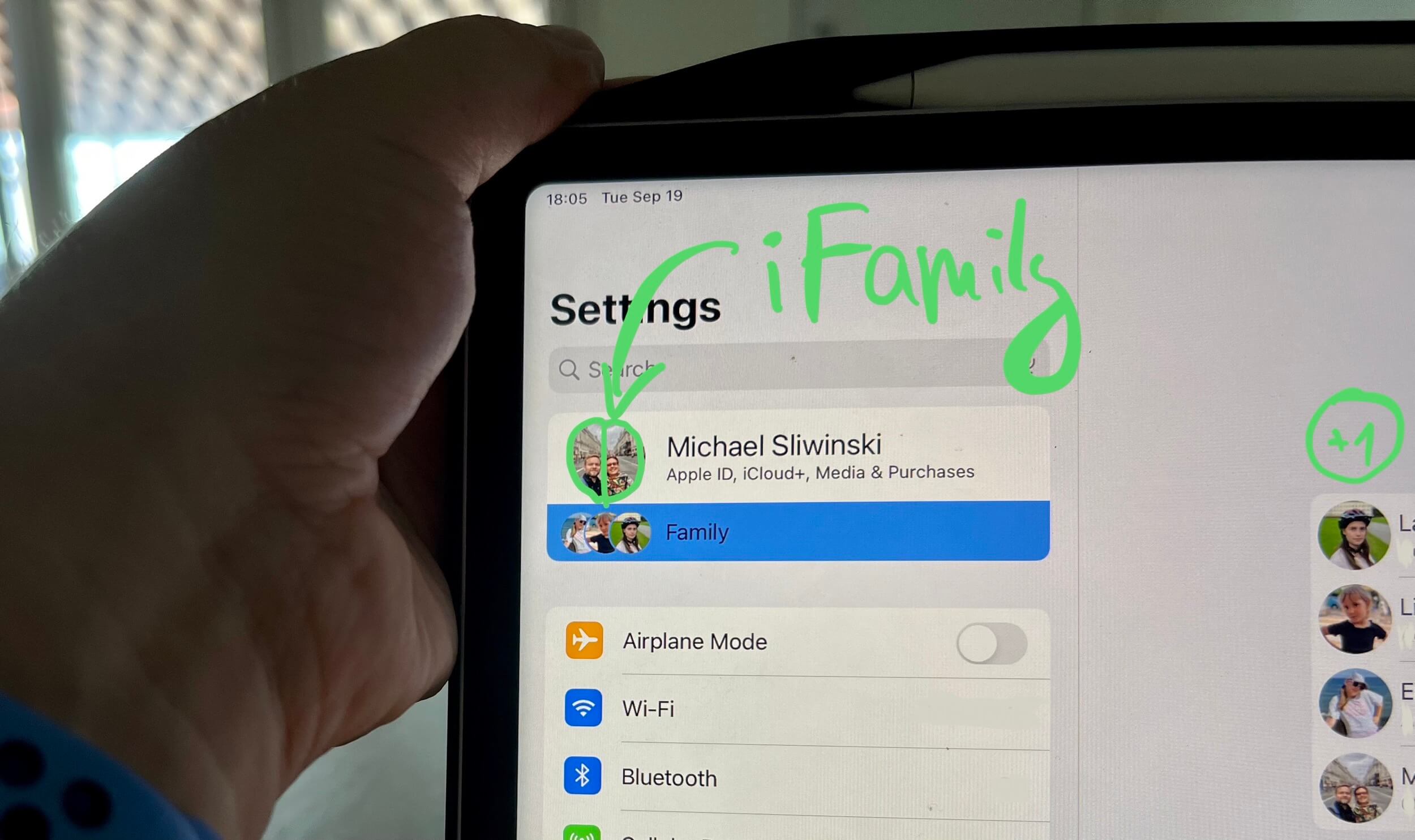 Thursday, September 14, 2023
/ipadv/
People still ask me why after more than a decade I'm still working mainly on the iPad. They ask me how I can do it. The thing is, not only I can do it, but I must do it. I wouldn't be able to work on anything else. My iPad Pro 13" is the most versatile computer ever and I can't live without it. In most cases it's just a much better computer than any laptop or desktop out there and in this post I'm going to prove it: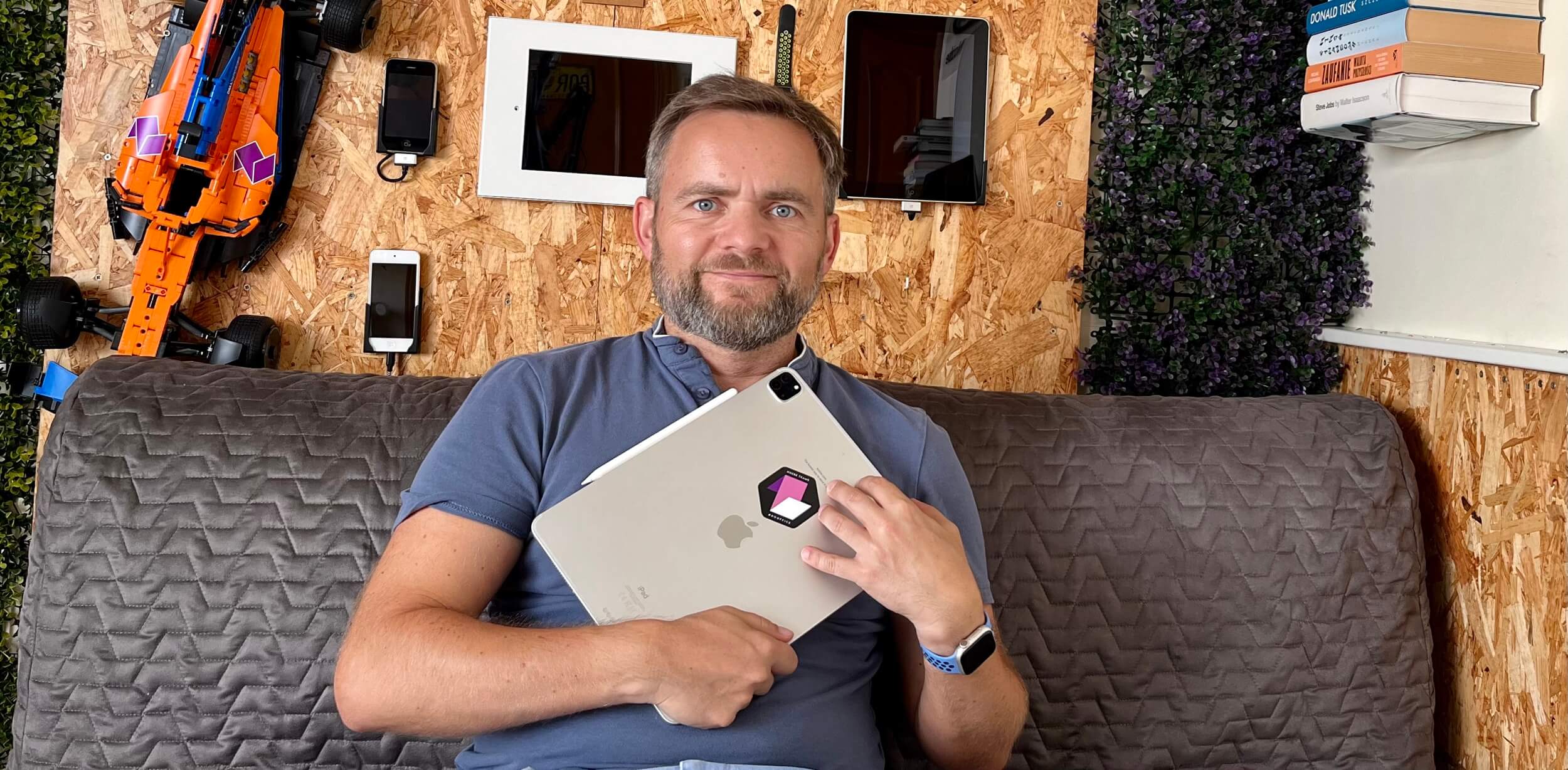 Monday, September 11, 2023
/dogfooding/
Last week I did a guest webinar (in Polish) on how we ship Nozbe app and I gave all the details… In a nutshell, we break lots of "industry standards", and we eat dog 🐶 food…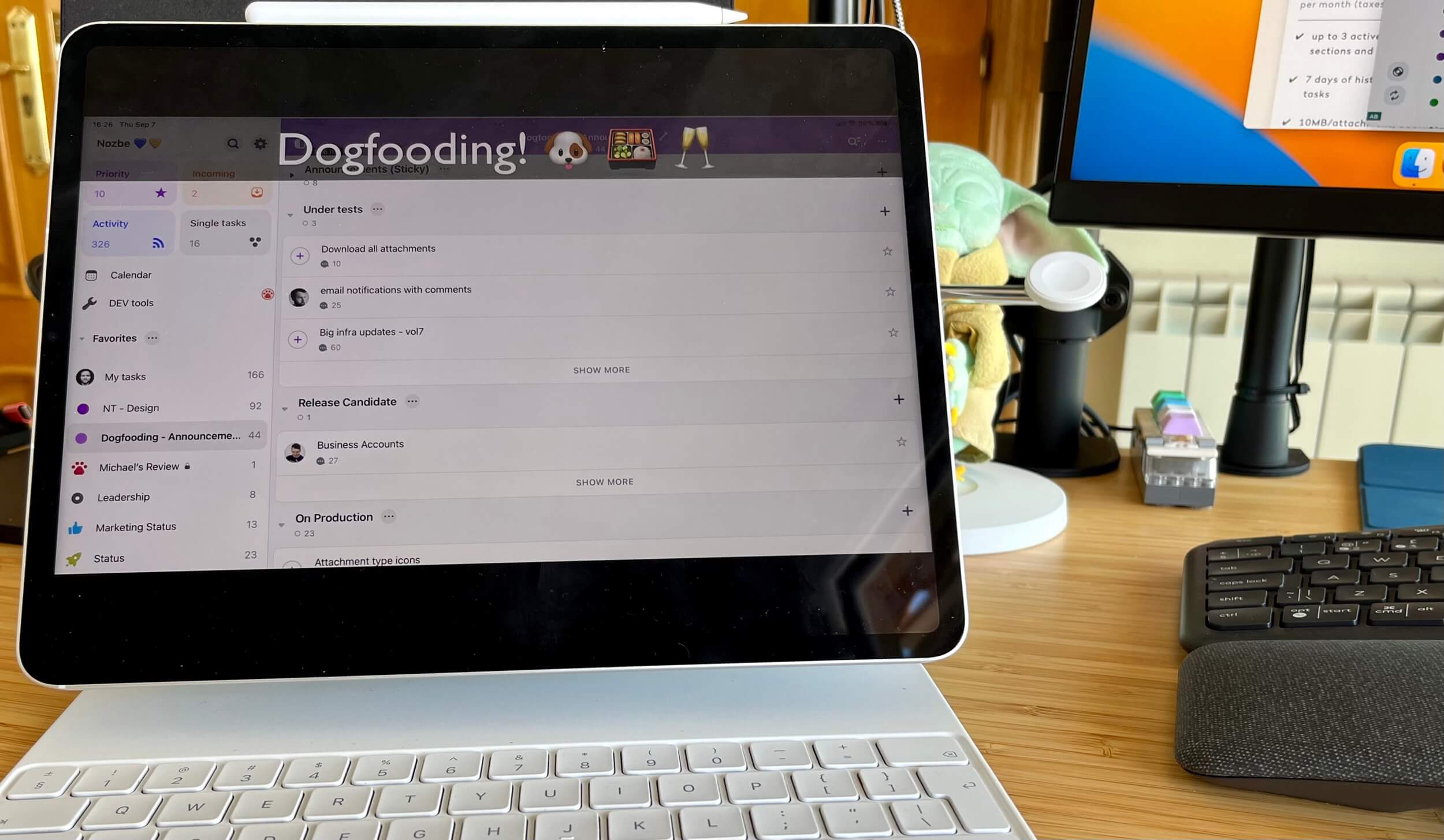 Wednesday, August 30, 2023
/gratitude/
I've written a daily journal for more than seven years now and I've incorporated daily gratitude practice into it every morning. While many people tried my journaling shortcuts, some commented that while they weren't committed to keeping a journal, they'd like an incentive to practice gratitude and have just a gratitude journal of sorts. That's why I decided to extract the gratitude part from my journaling Shortcut to make such practice more accessible to many more people. Read on to get this free Siri Shortcut (compatible with iPhones, iPads and Macs) and start benefiting from an effortless daily gratitude practice today!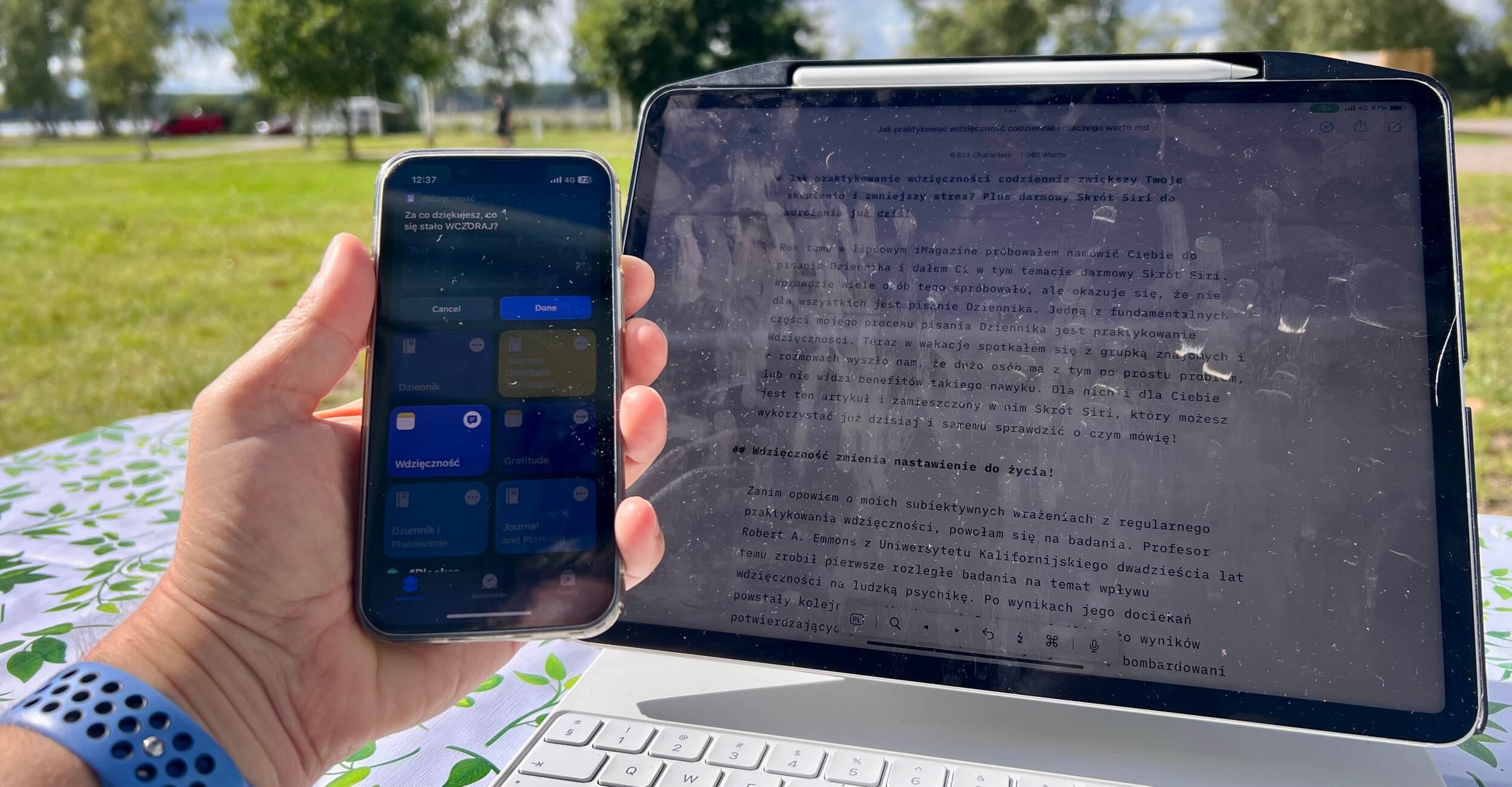 Friday, July 7, 2023
/now230707/
…starting my "summer months" which means, no meetings, lots of vacation time, lots of deep work sessions and thinking - recharging battery for what's going to be a very busy end of the year for Nozbe.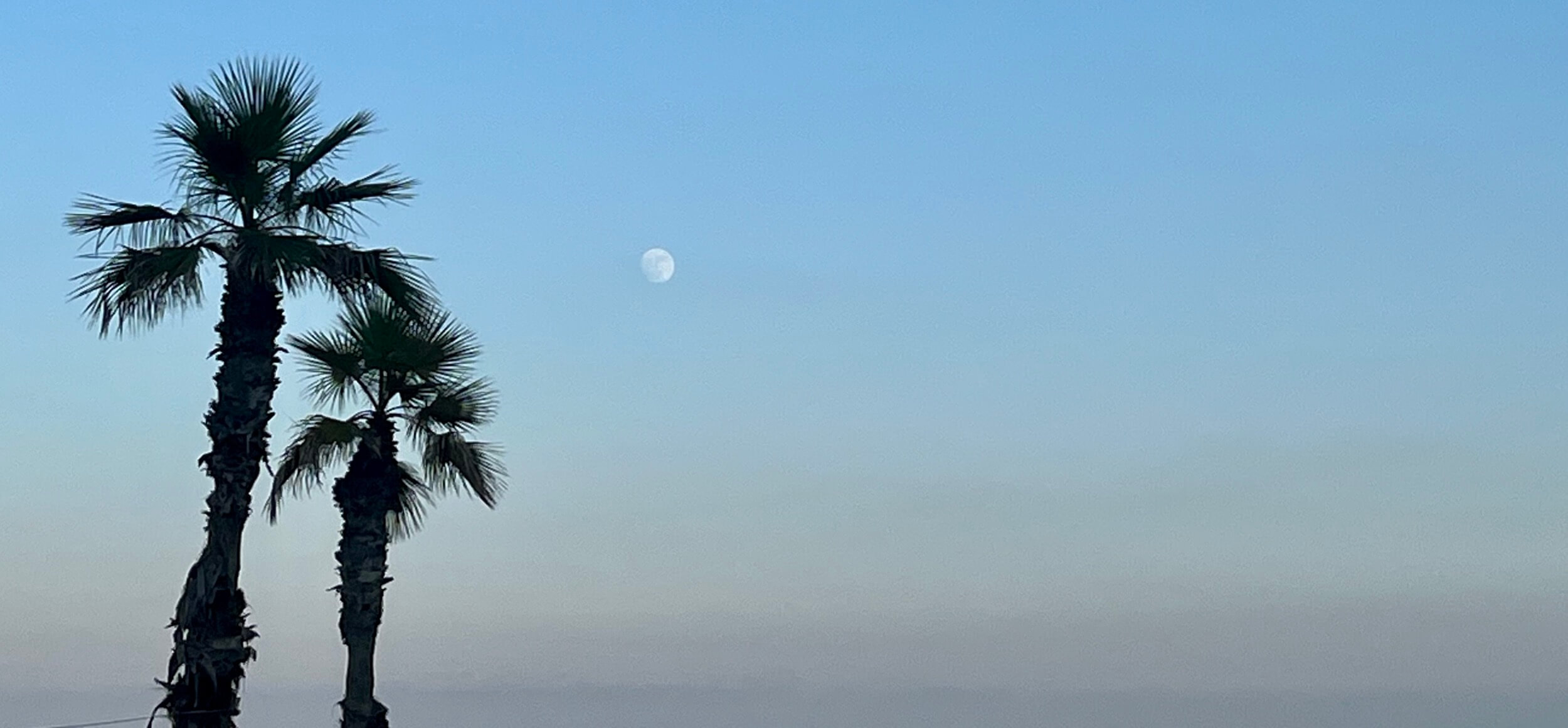 Tuesday, July 4, 2023
/evernote/
Last month new Nozbe finally got Evernote integration (v.2013.19), similar to the one we've had for years for Nozbe Personal. While we were working on this, Evernote was aqcuired which to me was kind of an end of an era. You see, I used to be a great Evernote fan and supporter, I have a long history with them - from integrating in 2009, through a failed acquisition in 2011 and later usage until I dropped it altogether. Today I decided to write this blog post where I'm sharing my history with them and where I see them headed:

Friday, June 30, 2023
/nozbe-pricing-changes/
On Nozbe blog I posted the summary of all pricing changes for all our customers to see. Even though on this blog I've shared a lot more under the "Nozbe" tag but I didn't want our average customer to be exposed to so much detail and I wanted to share the gist of all the changes.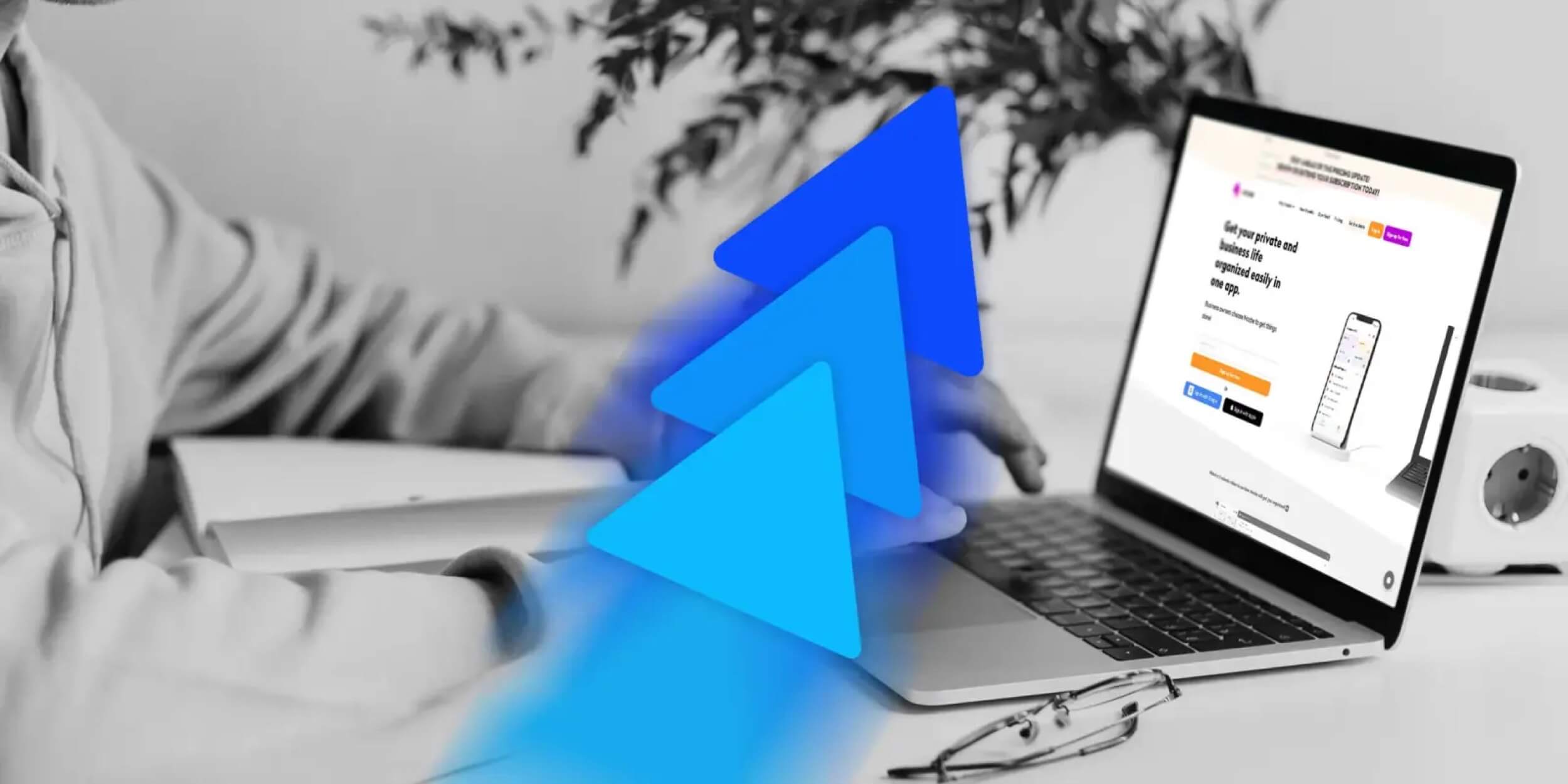 Thursday, June 29, 2023
/news-13/
We're reaching the end of June and in a few days we'll be switching on the new Nozbe prices (starting from July 3 - Monday). I spent the whole month of June writing about it, reaching out to customers and sharing the details behind the whole process. It's been a roller coaster 🎢 ride and here are my few takeaways from all this. It's all there - the blood, tears of joy and over-sharing: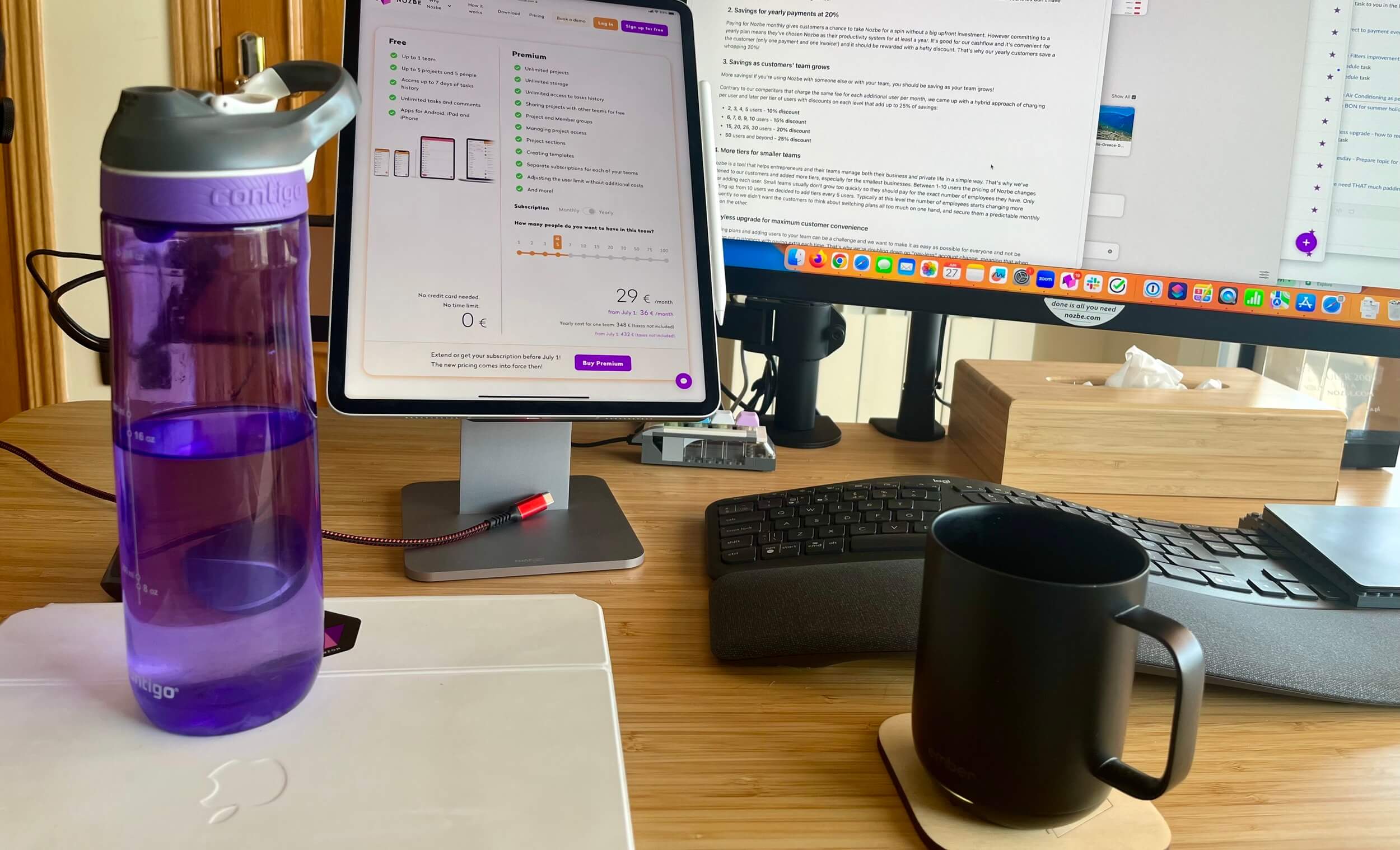 Wednesday, June 28, 2023
/forlife/
Choosing your trusted productivity system is hard. And once you've chosen yours, you want it to work reliably every day to help you get things done and last forever. Nozbe is such a system for you and we guarantee it. Here's how: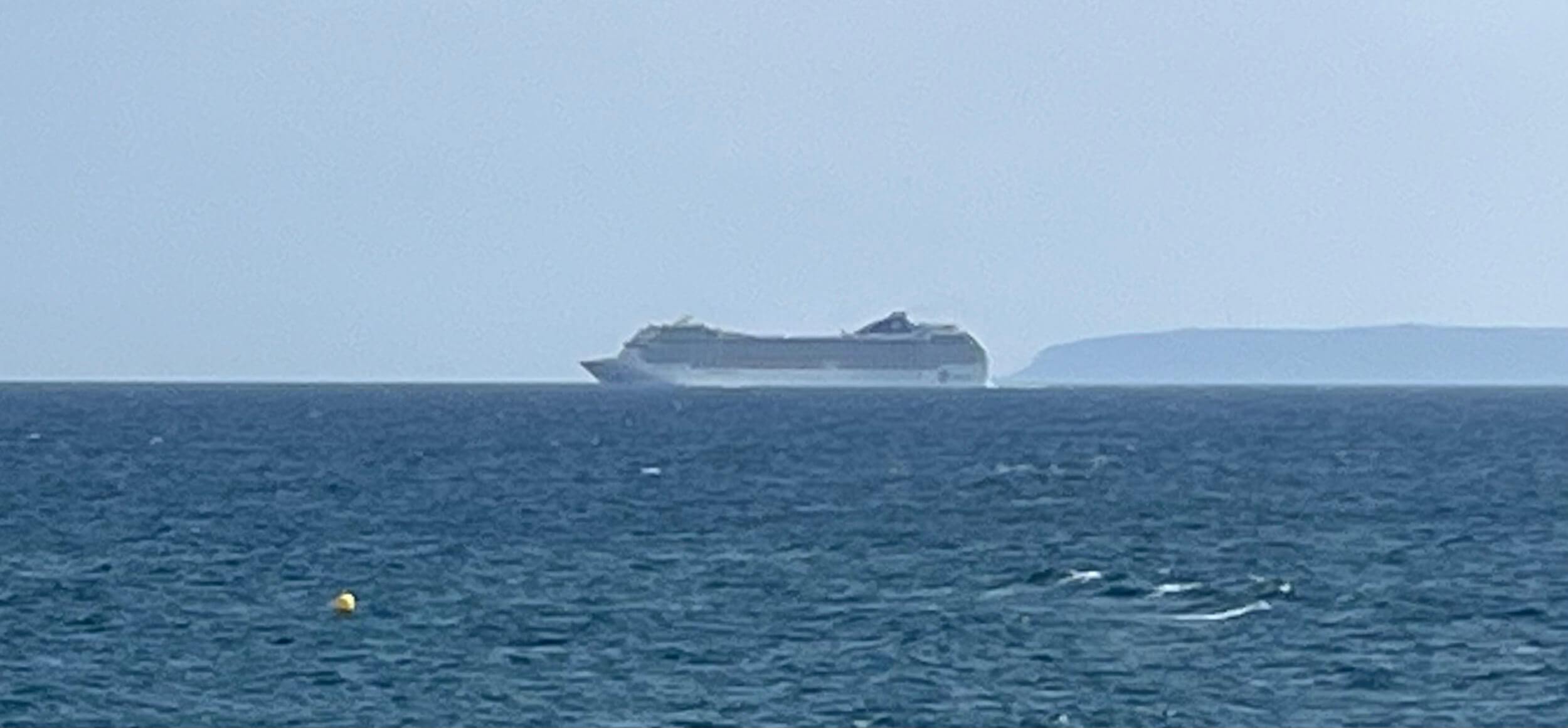 Monday, June 26, 2023
/payless/
When designing new pricing for Nozbe customers I outlined 5 rules and values that guided me throughout the process. The last, 5th one, was the concept of pay-less account change. Actually, this idea is not new to this particular pricing change. We've had it since the beginning of new Nozbe and now after a few years of having it, we're doubling down on it as we believe it's the most effortless way for SaaS (Software as a Service) customers to change their subscription. Here's why and how it works in practice (with examples!):
Friday, June 23, 2023
/noofficefm-45/
Welcome to the episode #45 of my podcast about working remotely with Rafal, Nozbe's VP of Product. The No Office podcast is back! This time I'm joined by my friend Augusto Pinaud and we're geeking out on the Apple's new entry into spatial computing called Apple Vision Pro and how we believe it will impact productivity and remote work.
Thursday, June 22, 2023
/ergo/
I've always liked ergonomic keyboards. I've been an early user of the first model of Microsoft's "Natural Keyboard" in my Windows years and later also had the Sculpt Ergonomic keyboard but it stopped working after only 2 years and wasn't well suited for the Mac. So I just kept using my solar-powered K760 Logitech keyboard which I bought in… December of 2012 - over 10 years ago! However, I missed the "natural/ergonomic" keyboard layout and decided to try the Logitech ERGO K860 and as I kept using it I also decided to "integrate it" with the Apple Trackpad in my home office. Here's my review: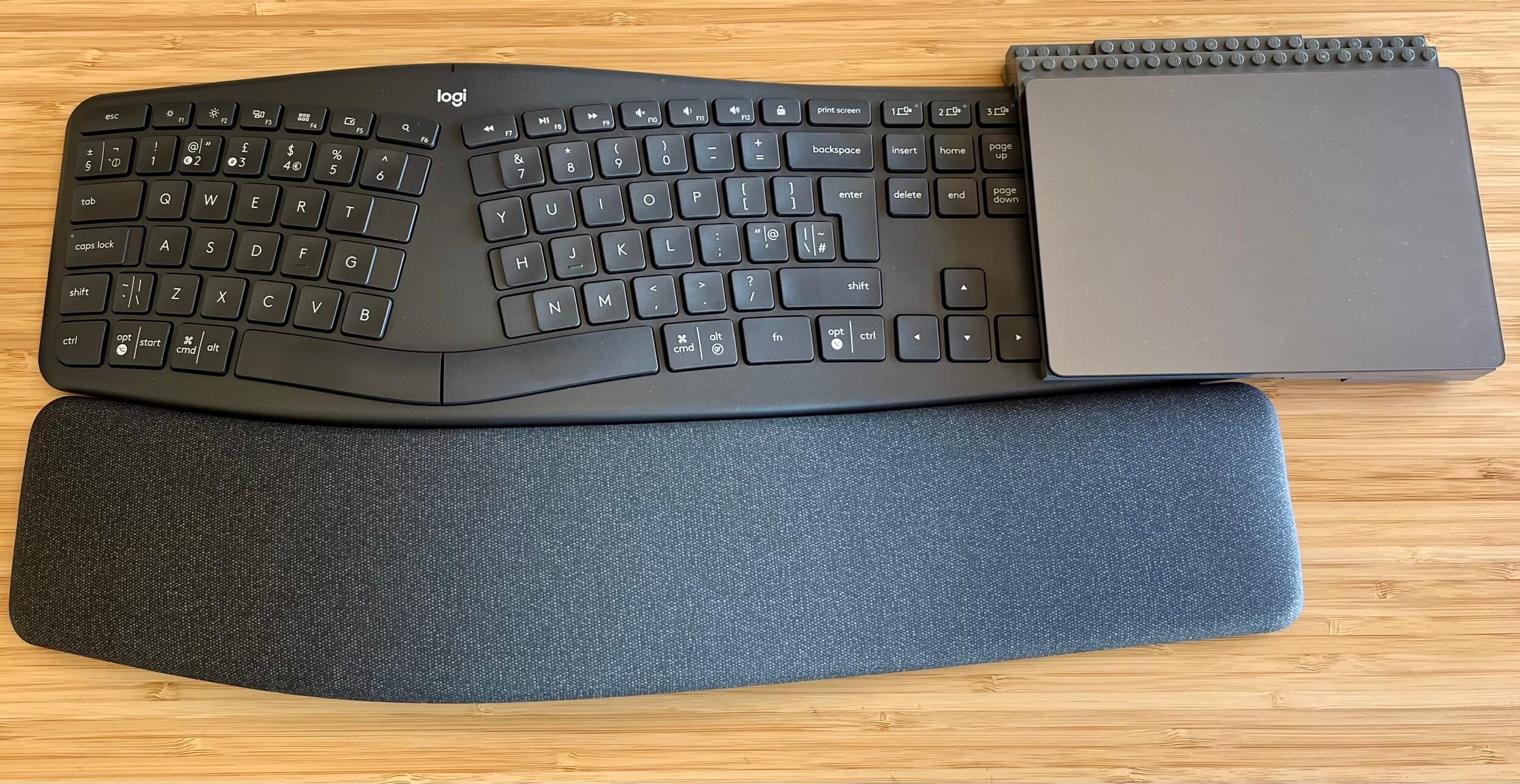 Monday, June 19, 2023
/pricing-how/
Last week I wrote that we are changing pricing of Nozbe and today I'd like to explain the 5 rules that governed me when designing the new price list. Previously I've explained some of it on video but since then I think I've improved the system and came up with 5 principles for creating a pricing scheme that I believe to be as fair as possible. I also lay out the "gotchas" that I've encountered along the way. I hope this helps Nozbe customers understand where I'm coming from and fellow SaaS (Software As A Service) business owners design pricing for their customers.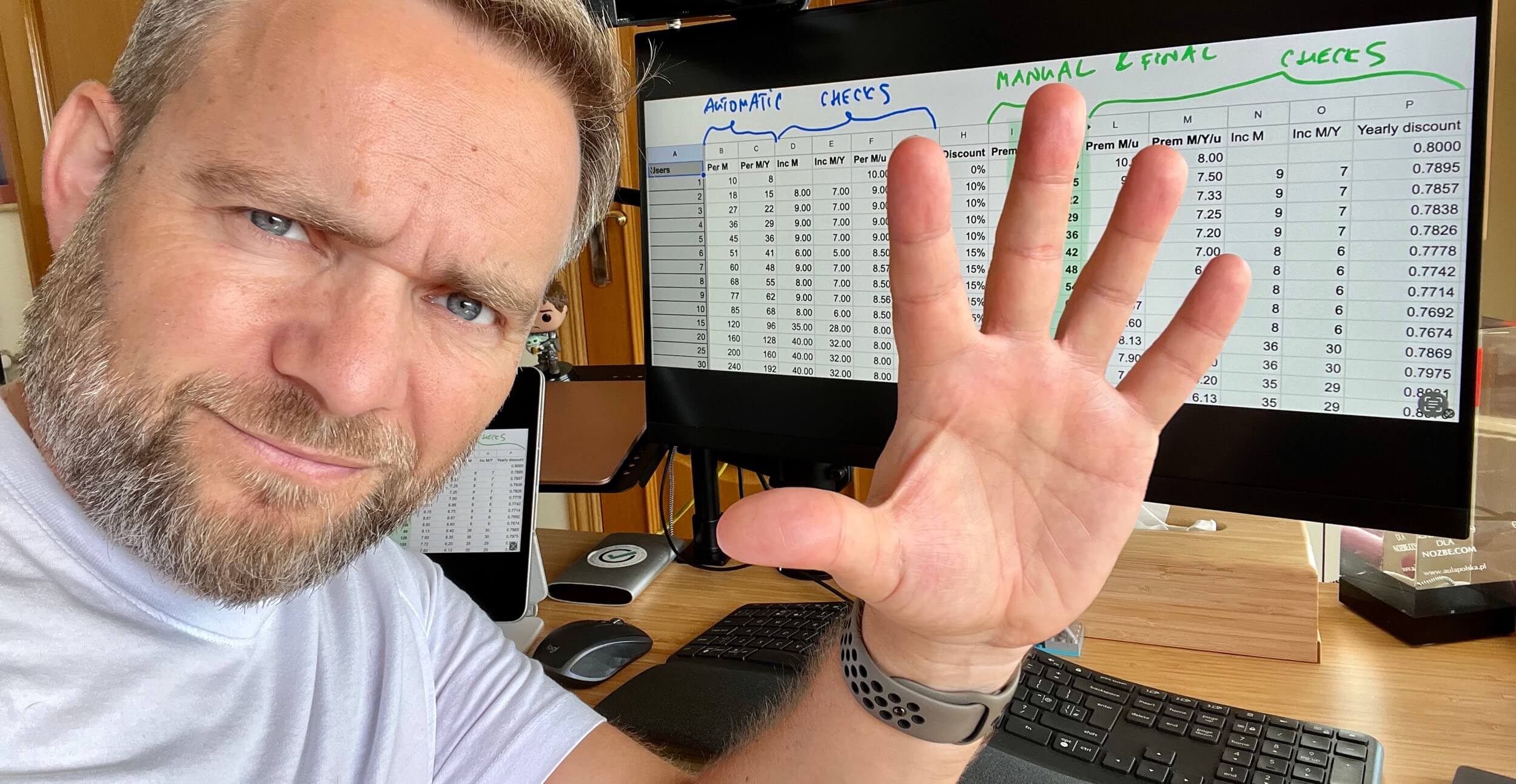 Hi, I'm Michael Sliwinski, the host of this site. Are you a fellow small business owner? Make sure to give Nozbe a try - my app will help you and your team get your professional and private life organized in a simple way. It's FREE and you'll get a bonus of $15 for Premium version by signing up below: