Let's talk about your team's productivity!
I'm the founder of Nozbe and Nozbe Teams - to-do apps for busy professionals and teams, which I've been running for the last 13 years. I'm also a writer (#iPadOnly and #NoOffice) and serial podcaster.
With the launch of Nozbe Teams I'm all about "team productivity". Basically:
I help small teams do great things by working in a truly modern way.
My team is all-remote and we all work from our "home offices" (just like the one pictured above) while delivering two global apps with more than 700,000 users worldwide.
Want to get in touch?
This site is in: English (this), Spanish and Polish
I post stuff mostly here in English, but I do sometimes write or do interviews in Polish or do webinars or public speaking in Spanish. I also speak German, for the record.
BTW, this is my new site, which I just launched. My previous site is here: Sliwinski.com.
Also - this site is free and open source. Copy anything you want, just credit me back, thanks!
Find something cool to read
Check out full archive or browse my posts by tags or topics. Gradually I'll be importing post from my old blog here. For now you can search only the new stuff:
Join my mailing list and get inspired!
Hi, I'm Michael Sliwinski, the host of this site. Enjoying my writing? Subscribe to my monthly newsletter and I'll send you digital copies of two of my books "It's All About Passion" and "No Office Apps":
Privacy and GDPR: No spam. One monthly email. Unsubscribe anytime.
Latest updates:
Thursday, November 25, 2021
/streaming/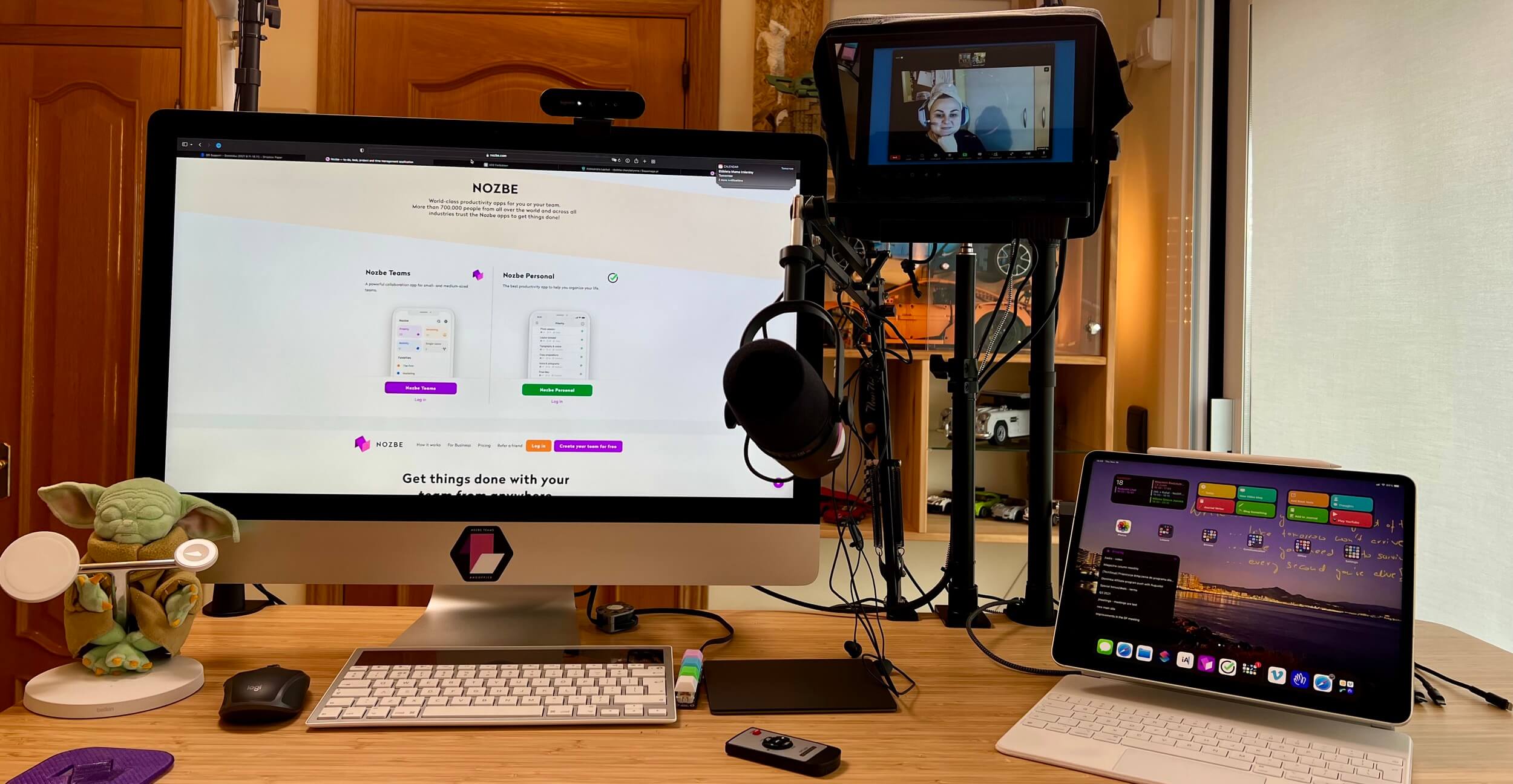 Last year I read a blog post by Matt Mullenweg - the founder of Wordpress where he explained his high-quality streaming setup - he revised this post this year with more updates. Later I read a similar post by Seth. As I do quite a few interviews, record podcasts and have some zoom meetings with my Nozbe team, I decided to upgrade my setup, too. I explained some of it in my latest "office update" post but here are more details:
Monday, November 22, 2021
/noofficefm-30/
Welcome to the episode #30 of my podcast about working remotely with Rafal, Nozbe's VP of Product. We're back with Rafał talking about how I work #iPadOnly and he apparently doesn't anymore. The pros and cons of this kind of work and the future of Rafal's setup. Also we mention the recent renovation of my home office. Check it out!
Thursday, November 18, 2021
/office22/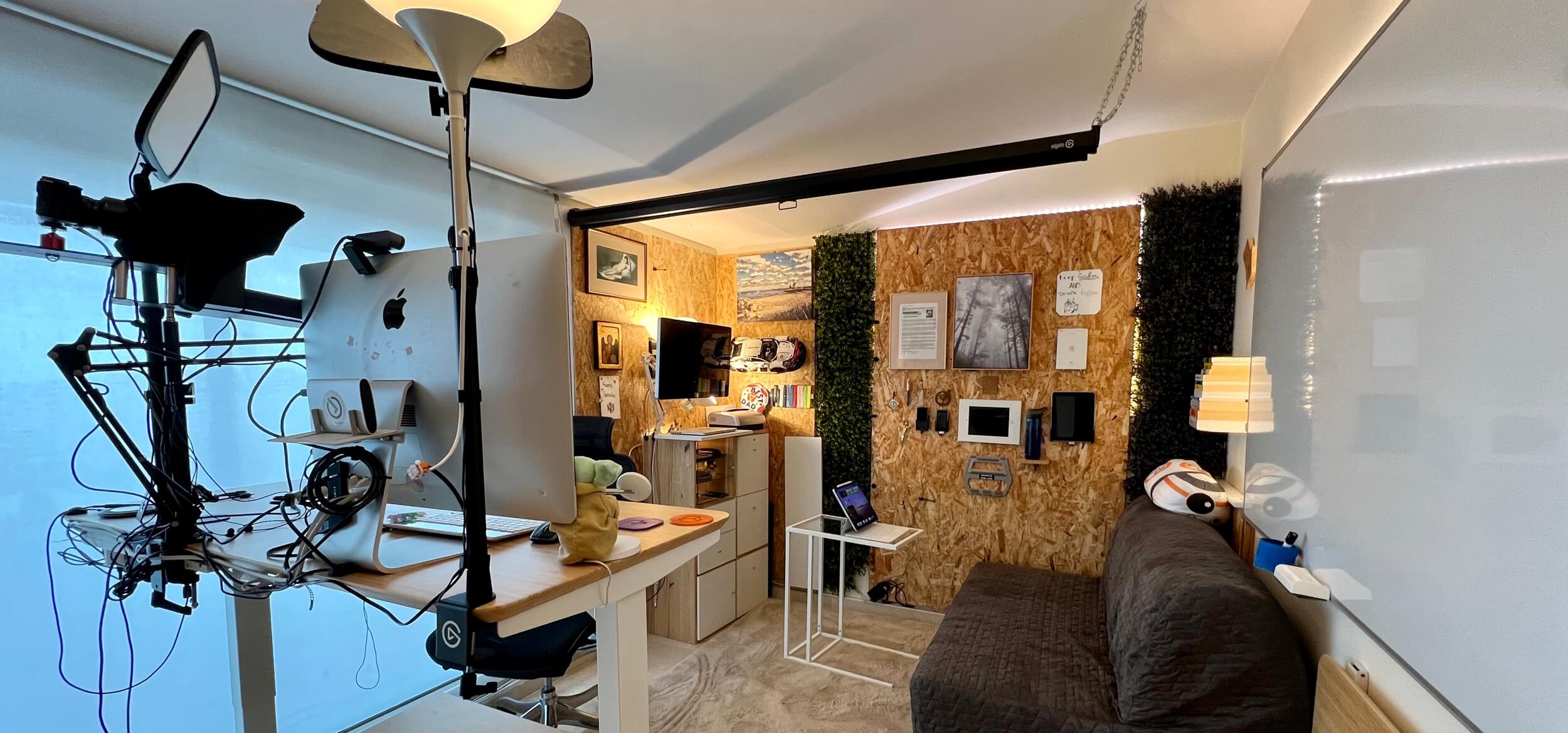 I've spent lots of time setting up my home office for 2021 and I was really happy with my setup… until I started recording No Office podcast and talked to quite a few professionals about recording podcasts and videos. That's when I decided to start upgrading everything. I've also changed my windows, moved my desk to a different place and added new gear… and I'm very happy with the result:
Tuesday, November 16, 2021
/shorts-apple/
One of our strategies for promoting Nozbe indirectly is by promoting our Nozbe.Com YouTube Channel - where we post Nozbe product videos, No Office podcast episodes and shorter productivity videos. We have above 4000 subscribers there (and you should totally subscribe!). Last week we decided to try the new YouTube feature - shorts, and here's my first short commenting on Apple's MacBook Pro event and my essay on Apple's reluctance to embrace #NoOffice work:
Monday, November 15, 2021
/postjs/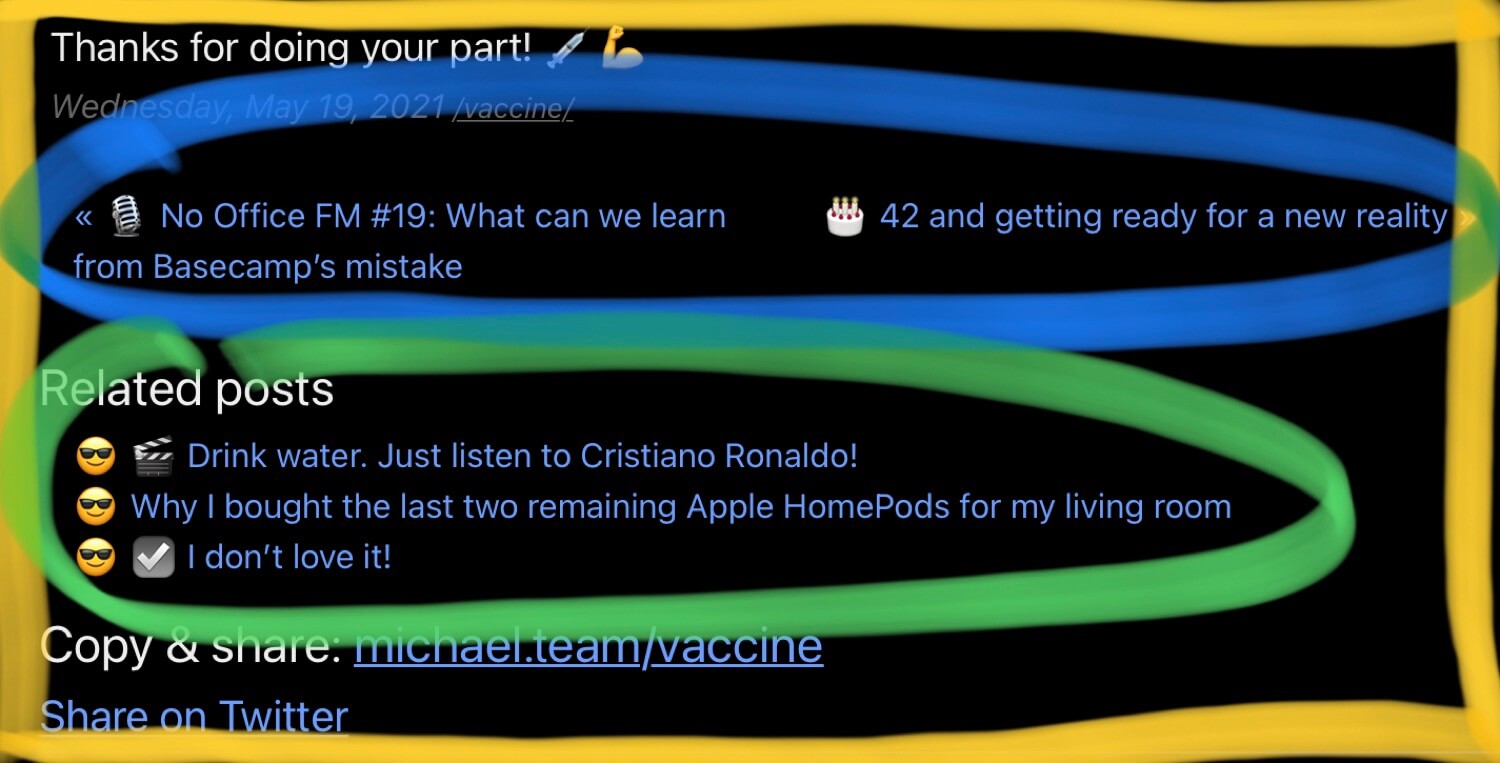 One of my best personal decisions of the pandemic-driven 2020 was to finally migrate my old blog from Sliwinski.com to this. To Michael.team. And not only because I have a new, shorter domain, but mostly because it's a different technology stack and I can completely control it. I wrote about the transition here. As in Nozbe I hire brilliant programmers, I don't code the app anymore. But I still like using programming languages to build something out of nothing and for this purpose, this blog is my place to do that.Last weekend I decided to get back to coding and built some long-overdue features like "next post", "previous post" and "related posts". It was so much fun! Read on, if you're a programming geek like me:
Thursday, November 11, 2021
/nationalism/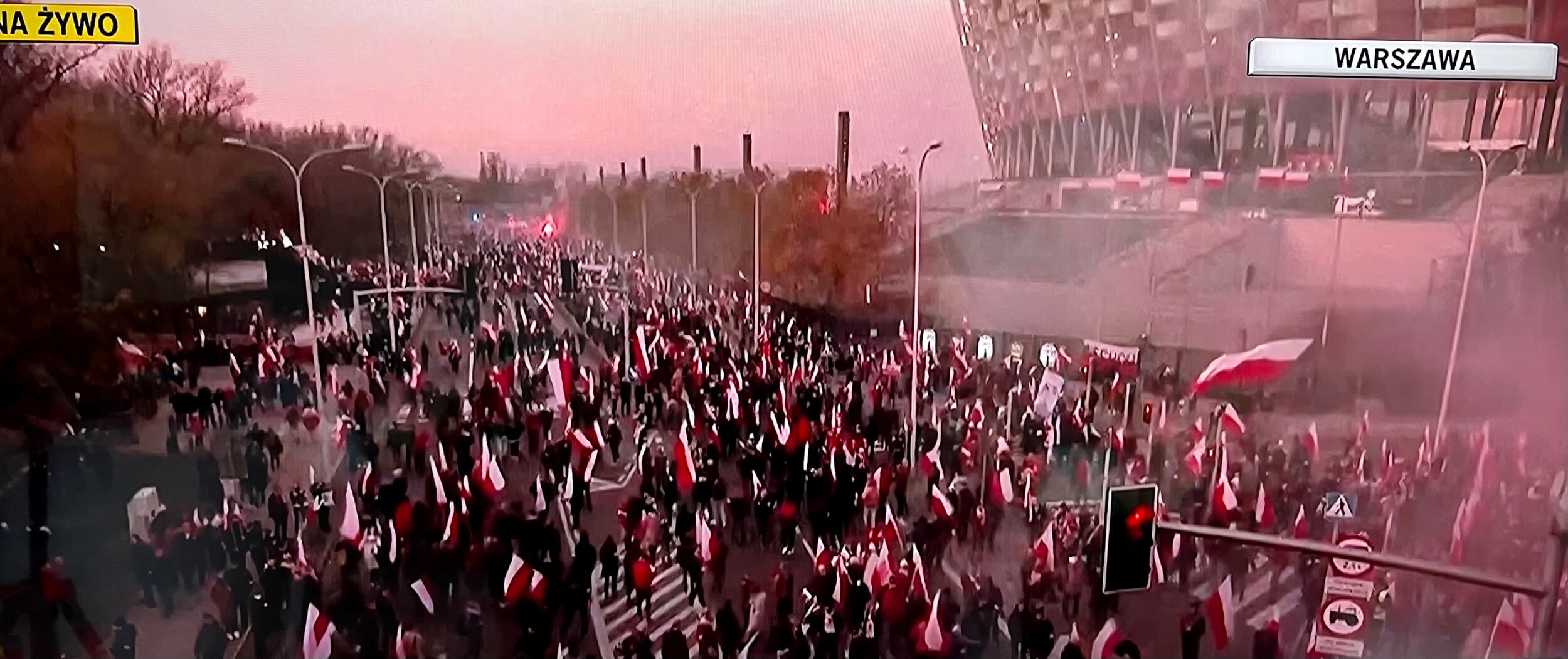 Today is Polish Independence Day. 103 years ago today, Poland became a country again after not being on the map of Europe for the 123 years prior. As a Polish citizen, born and raised in Poland, I should be happy today. I should be celebrating. I should be proud of being Polish. However, I don't feel that way. It's complicated. Let me explain:
Monday, November 8, 2021
/noofficefm-29/
Welcome to the episode #29 of my podcast about working remotely with Rafal, Nozbe's VP of Product. Last week I was on holidays so Rafal invited Emilia from our team to talk about how she works with us when she's in Taiwan and the rest of our team is in Europe and how it's possible to co-work with a partner in the same place. Interesting!
Tuesday, October 26, 2021
/anythingbutidle-unleashed/
Per tradition I was invited again by my buddies Augusto and Sidney to geek out with them on their podcast and comment on the latest Apple's "Unleashed" event. This time we were also joined by Art Gelwicks and we had a blast - hope you'll also enjoy it! More info ℹ️
Monday, October 25, 2021
/noofficefm-28/
Welcome to the episode #28 of my podcast about working remotely with Rafal, Nozbe's VP of Product. We geek out about the latest MacBook Pros and other news from Apple as these are some monumental devices used by many #NoOffice workers. Come geek out with us!
Thursday, October 14, 2021
/news-7/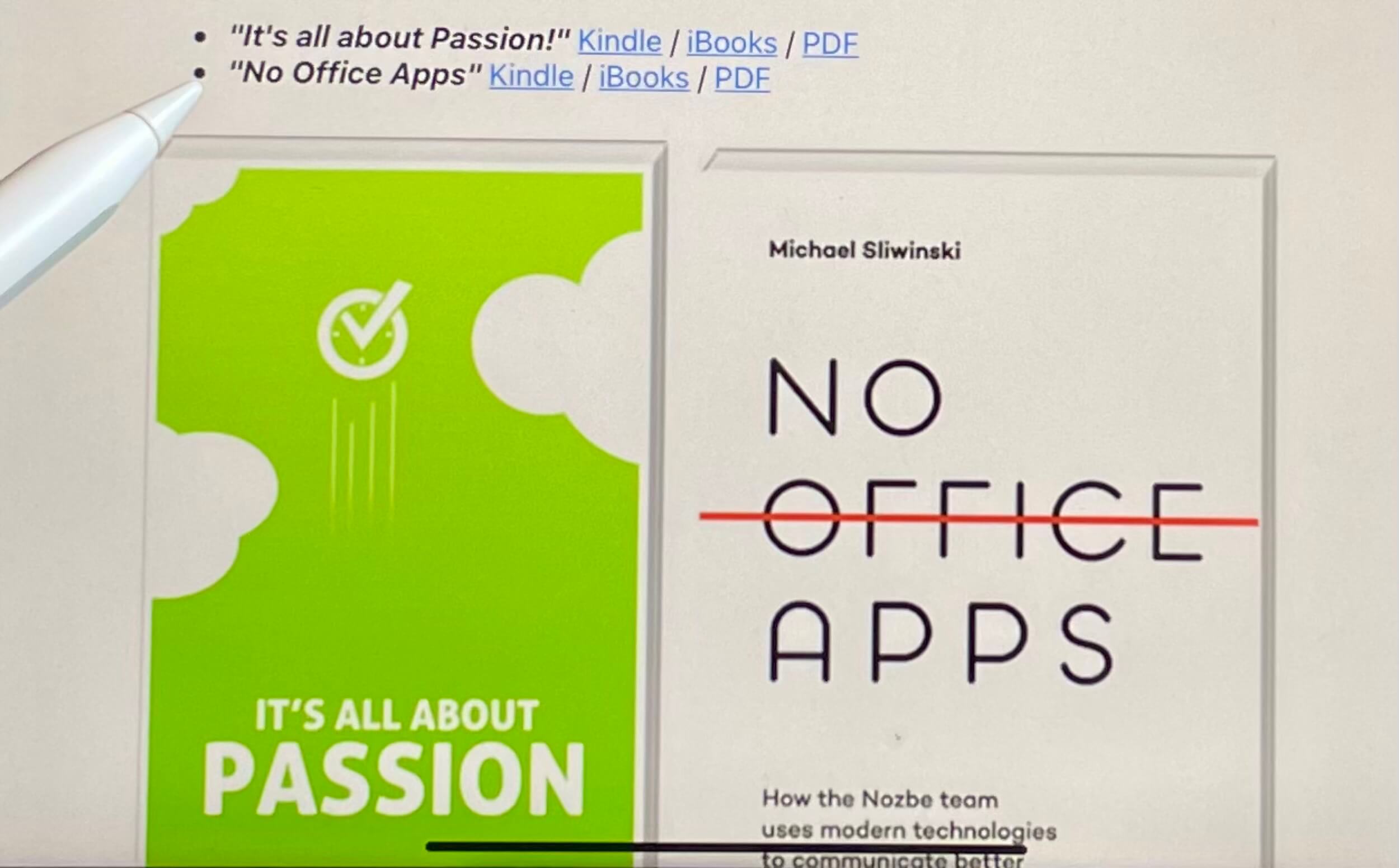 Now that I finally finished writing the long-awaited #NoOffice book, I decided to go back to sending you a regular Newsletter after more than two years of not doing that (actually it's been over 5 years!). Isn't that exciting?