9 reasons why I ditched my beloved iPhone 13 Mini for the 15 Pro
This year I've upgraded both of my most mobile devices. Apple Watch got upgraded to the beefy Ultra 2 from a small series 7 and the iPhone went from the cute Mini 13 to the iPhone 15 Pro. Here are all the reasons that finally convinced me to drop the small and powerful Mini for the latest iPhone Pro:
What I've been missing in the iPhone 13 Mini
I loved Mini's size and weight. It's so light yet still such a great smartphone. I actually "downgraded" to it from the iPhone 13 Pro because of these features. When I did, I sacrificed three things:
Pro-motion 120Hz display - smooth scrolling!
3X telephoto lens - better photos!
Battery life - duh!
While I could live without those things, whenever I'd use my wife's iPhone 13 Pro Max, I'd envy her the smoother scrolling a little. Even though the Mini 13 had a better battery life than Mini 12, it still didn't last me an entire day. I also missed the telephoto - especially when taking pictures of my daughters.
Which new features did the iPhone 14 Pro bring?
I skipped the 14-pro generation of the iPhone, which brought additional features like:
Dynamic island 🏝️
Always-on display
48MP Photo camera
While these features were not deal-breakers, I did want to try them out at some point. Especially I wanted to know if this removal of notch and going for Dynamic Island would be a meaningful change. Spoiler alert - it's cool, but it's a gimmick. I was also curious about the always-on display.
But I resisted and kept my Mini… until the iPhone 15 Pro arrived with 2 key features that convinced me to go for it:
Lighter iPhone 15 Pro with USB-C!
That's right. The iPhone 15 Pro made of titanium is 20g lighter than its predecessors and a little bit smaller. It's still 40g heavier than the Mini, but it's a welcome improvement. Also, finally USB-C comes to the iPhone, so I can share the same accessories with my beloved iPad Pro 13" - USB-C all things! I also simplified my traveling pouch by removing most of old-school Lightning accessories. I still need to keep some Lightning cables, because my family uses older iPhones or iPads, but it's a great simplification anyway!
The new iPhone also handles better in my hand - it's a little more curvy, feels smaller and better balanced.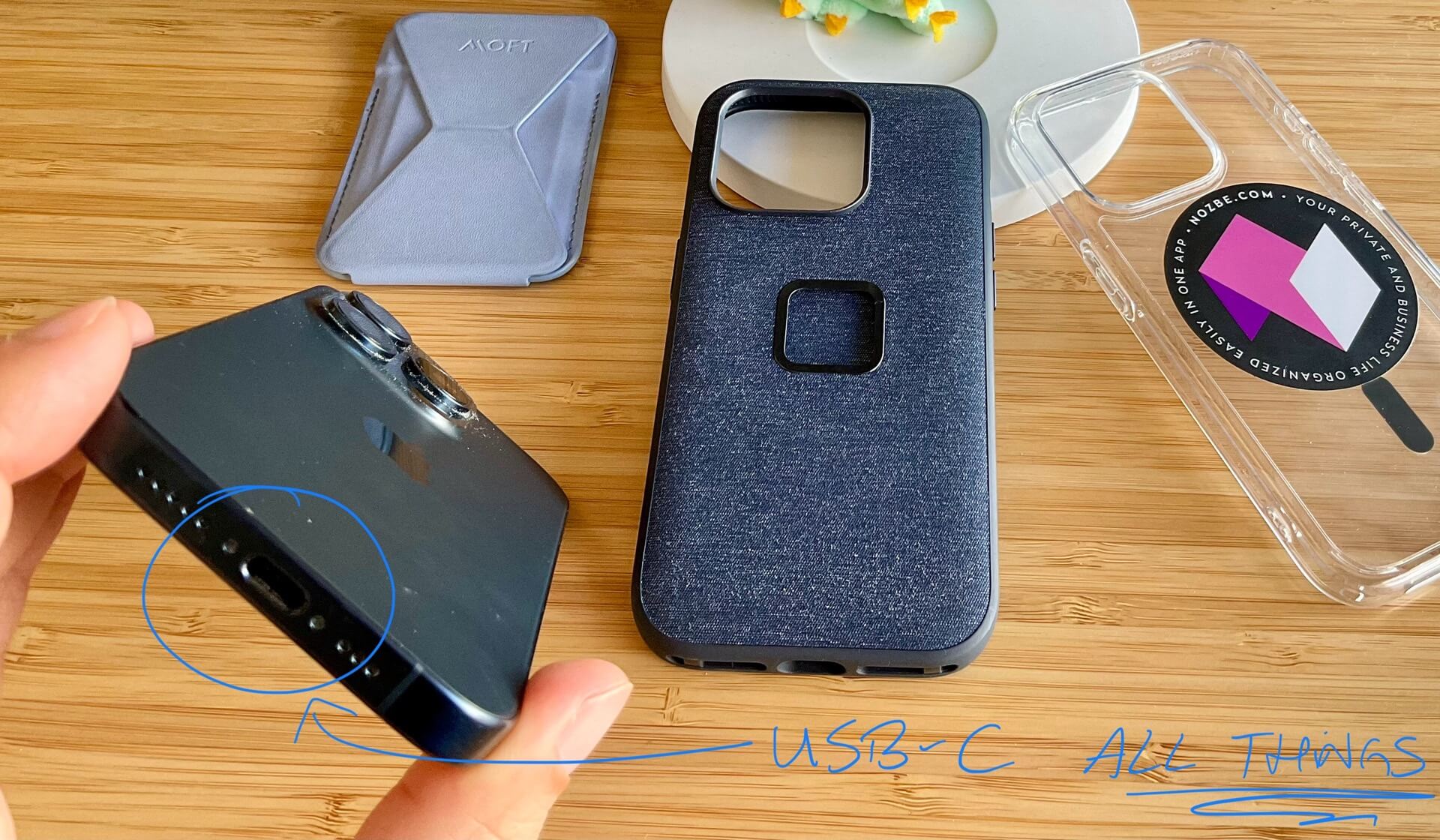 Bonus for the iPhone 15 Pro - Action button!
As a productivity guy this is a game changer for me - now I have a programmable "Action Button" on both the iPhone and the Watch and I'm using Siri Shortcuts to customize it. More on that in future blog posts!
Which covers do I use with the iPhone 15 Pro?
I use 3 covers with the iPhone 15 Pro (I'm simply too afraid to be using it without a cover):
Spigen Clear MagFit (Amazon link) - I prefer this case for most of the time. It highlights the Midnight-blue color of my iPhone.
Peak Design Everyday Case (Amazon link) - I use it when doing sports, especially when riding a bike. They are now improving the case to support the Action button but I still enjoy it anyway.
Mous Limitless 5.0 (Amazon link) - I'm trying it based on a YouTuber recommendation.
All these three covers support my MagSafe lifestyle and are compatible with my minimalist iWallet.
9 new features of the iPhone 15 Pro vs the iPhone 13 Mini
So to re-cap I'm getting 9 new features with the iPhone 15 Pro upgrade:
3 x iPhone 13 Pro features: ProMotion display, 3X telephoto lens and better battery life
3 x iPhone 14 Pro features: Dynamic Island, Always-on display and 48MP camera
3 x iPhone 15 Pro features: lighter weight, USB-C and Action Button!
Yep, for a tech enthusiast like me these additional 9 features are more than worth the upgrade. While iPhone 14 Pro features were nice-to-have's, it's the iPhone 15 Pro with it's fundamental design changes that pushed me over the edge to get it.
After almost 2 months with the iPhone 15 Pro I must say I still miss the size and cuteness of thee iPhone Mini, but the new stuff makes up for it in spades!
Now with both the iPhone 15 Pro and Apple Watch Ultra 2 my new mobile setup is glorious: