Part 14 - AppleTV air-plays magically - iPad as my main computer
Over the course of my iPad only trip I've found many other "peripherals" help me get the job done. You've seen my iPad gadget bag with all of my cables and stuff I take on every business trip. But there is a small (and relatively cheap) device from Apple that makes the iPad shine even more: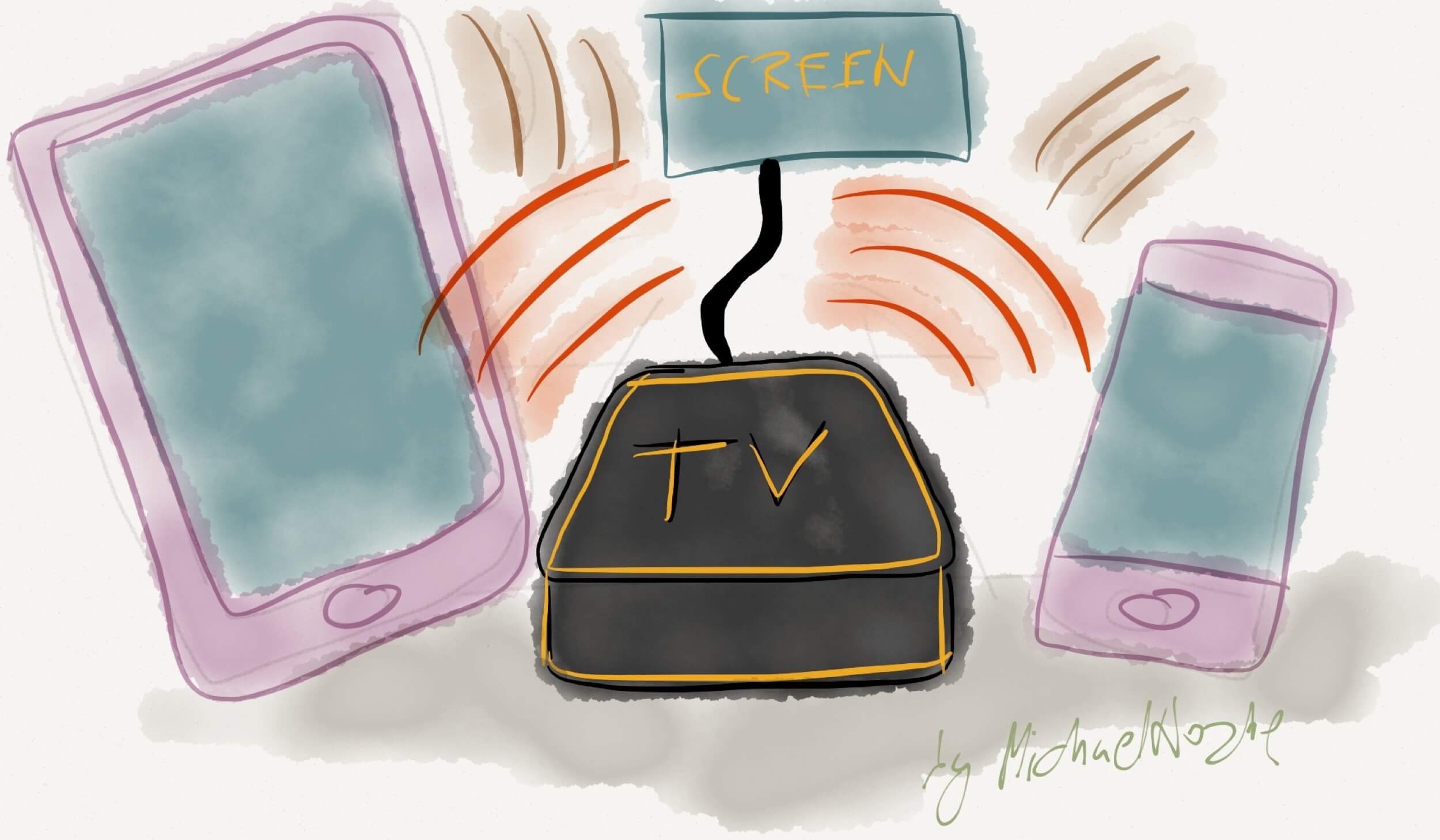 The AppleTV - your external iPad only monitor
I've highlighted many times over that having two monitors can double your productivity and while I've stayed single-monitor only for the last few months because I enjoy "focused" productive work on a single screen of my iPad, I very often need additional screen estate. This is where AppleTV comes in.
AppleTV - not only for shows, Netflix, Hulu and iTunes
Well, I have two AppleTVs - one in the living room and one in the bedroom - and while I use them mostly for watching movies or TV shows (and being a movie geek I'm iTunes, Netflix and Hulu Plus subscriber) I recently found a great way of using the AppleTV for much more than entertainment thanks to the magic of AirPlay.
AirPlay on AppleTV adds more magic to the iPad
AirPlay is a technology that enables you to stream via wireless network what you're seeing on your iPad (or iPhone - and I use both). It works like magic - you watch a video clip on your iPad and you click… and "bam" - you're seeing it now on the big screen attached to your AppleTV. Whenever I show this to someone, they can't believe it. I hear lots of WOW's right there.
My favorite way of using AirPlay is streaming YouTube videos to my screen - whether they are Glee songs I found on my iPhone for my daughter or Ted presentations for myself. I prefer to watch these on the big screen - it's a totally different experience.
Note: With Mountain Lion AirPlay is also available on the Mac, but it's a lot more fun on the iPad or iPhone.
AirPlay and Productivity - mirroring beyond YouTube :-)
Here's how I've recently been using AirPlay to boost my productivity on my iPad (and have some fun in the process) - by doing AirPlay mirroring (meaning - showing exactly what I see on my iPad… on that other screen) of what I do on my iPad:
Brainstorming - recently with a friend of mine we've been brainstorming about a project. I could quickly draw or write stuff on my iPad and we'd interact by him seeing what I was doing and correcting me on the fly. Totally better than him leaning over my shoulder and trying to see what I do on my small-ish 10 inch screen.
Shopping with my wife - we do shopping online and when we do it, I pull out my iPad, mirror it to our screen in our bedroom and she quickly tells me what to buy when I pull out our shopping list. We do shopping like this very very quickly.
Social browsing - same goes when I want to browse some web sites with my team or friends (or wife again) - I mirror the iPad's screen and we browse this together and comment on what we're seeing.
Photo-shows - watching photos together, deciding which to keep and which have to go on the iPad is beyond fun. Especially that I have my entire Photostream (from my iPhone) automatically there on the iPad. Beyond cool.
Keynote Presentations - I'll be recording some new presentations for Nozbe and our upcoming productivity course… and I'm using Keynote on the iPad and stream stuff through AirPlay to the projector screen.
Seeing a bigger picture - sometimes I just want to see something on bigger screen to think about it. I pull it out and look at it from a slightly bigger perspective (my 42" LCD is much bigger than the iPad :-)
AppleTV is not a toy… but it is!
If you're serious about your productivity and about going wireless, and are using iPad as I do (or even an iPhone) - make sure to get at least one of these boxes. They're relatively cheap ($99) and they work like magic.
AppleTV is fun and powerful on its own. With AirPlay it's extremely powerful and makes my day every time I use it.
Have you ever tried AirPlaying through an AppleTV? Or maybe other device? What did you do? Did you find it useful? Or fun? Or both?
Best regards,
- Michael