The day has come. Twitter is now being owned by it's most prominent shitposter - Elon Musk. He sealed the deal yesterday and as per reports, he fired Twittter's top executives. OK, I get it, he wants to make changes. However, what's with all this escorting executives by security stunt? Why do that? For show? To humiliate someone? Aren't we supposed to treat people we work with as adults? It's not like these people were criminals. Up until yesterday they were running the thing!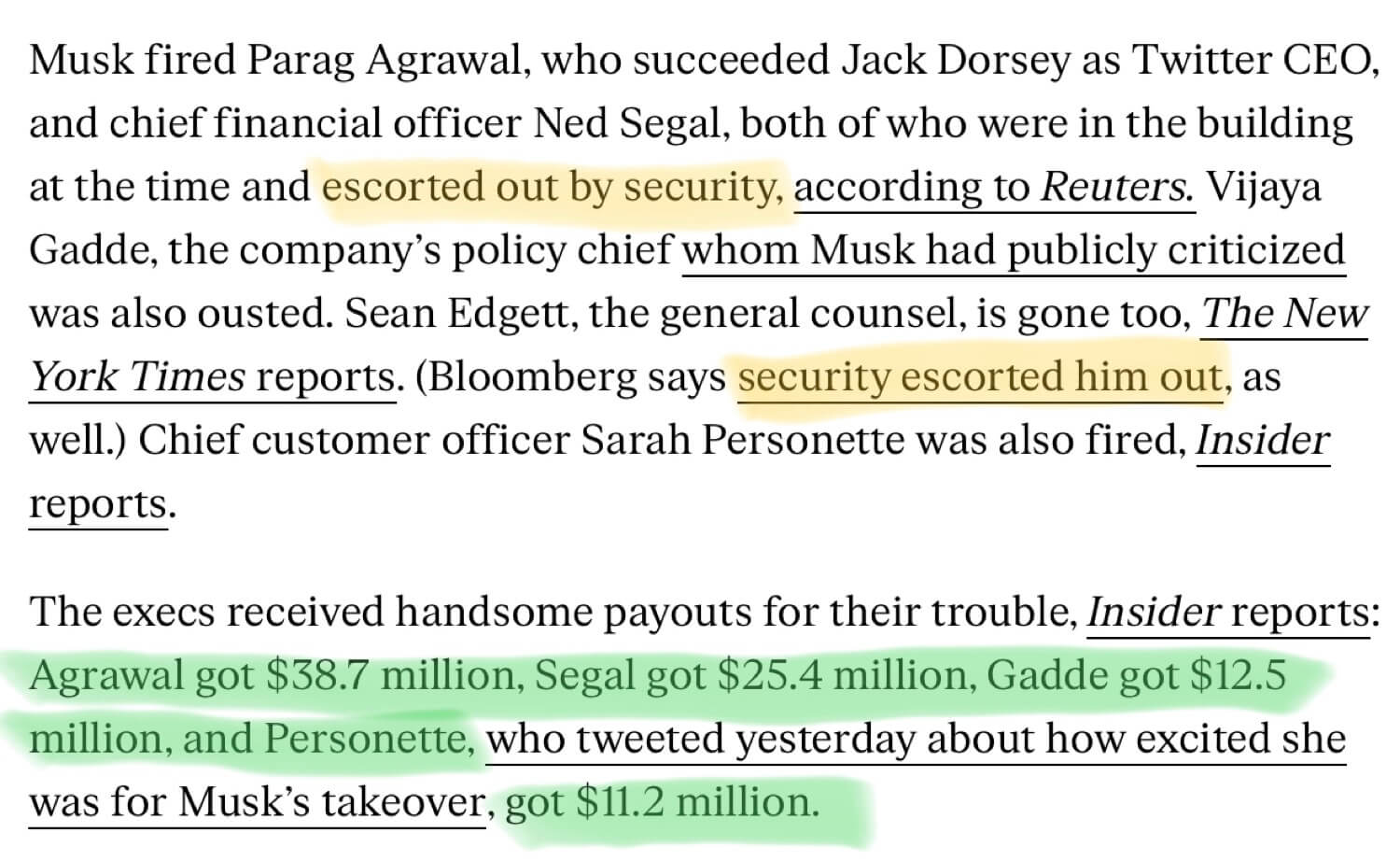 Ego is the enemy - and apparently rich people have big egos!
It always strikes me as strange that on one day you have a person working for you/with you, and the next day they're being escorted by security out of the building. We hear about it all the time. Again, are they criminals? Have they just stolen money from the company?
It's not like they're going to steal some expensive office accessories!
They are still ex-Twitter executives who are going to receive tens of millions of dollars in severance money (as highlighted above). So you're not really afraid they'll steal office furniture from you. Or organize a coup. You just want to show your… strength… weakness… insecurity… Elon?
Escorting people with security is NOT OK!
I feel like these reports on Elon Musk owning Twitter are glancing over the fact that this is how he did it. First he shows up with a sink to the company HQ and the next day he uses security to escort people who used to run the place.
And it's not just Elon. We hear about examples of executive changes like this all the time! One day they run the place, the second day they're being escorted out. Not because they did something criminal. Just because they're being let go. Is the security really necessary?
Again, I'm not arguing they shouldn't lose access to internal systems, but should they be publicly humiliated like this?
It's a stupid and immature demonstration of ego. Nothing more.
If this will be the way for Twitter to move forward, my @MSliwinski account will not be active there for much longer…