I'm slowly finishing off my Home office renovation which I mentioned in my previous post. I just upgraded my good trusty IKEA stand-up desk (model: Bekant) by getting a new bamboo table top (model: Hilver) - it's wider and shallower than my previous one so there's more space for my iPad Pro. Now that it's set up, let me show you what I've got there so hopefully it serves as an inspiration to you: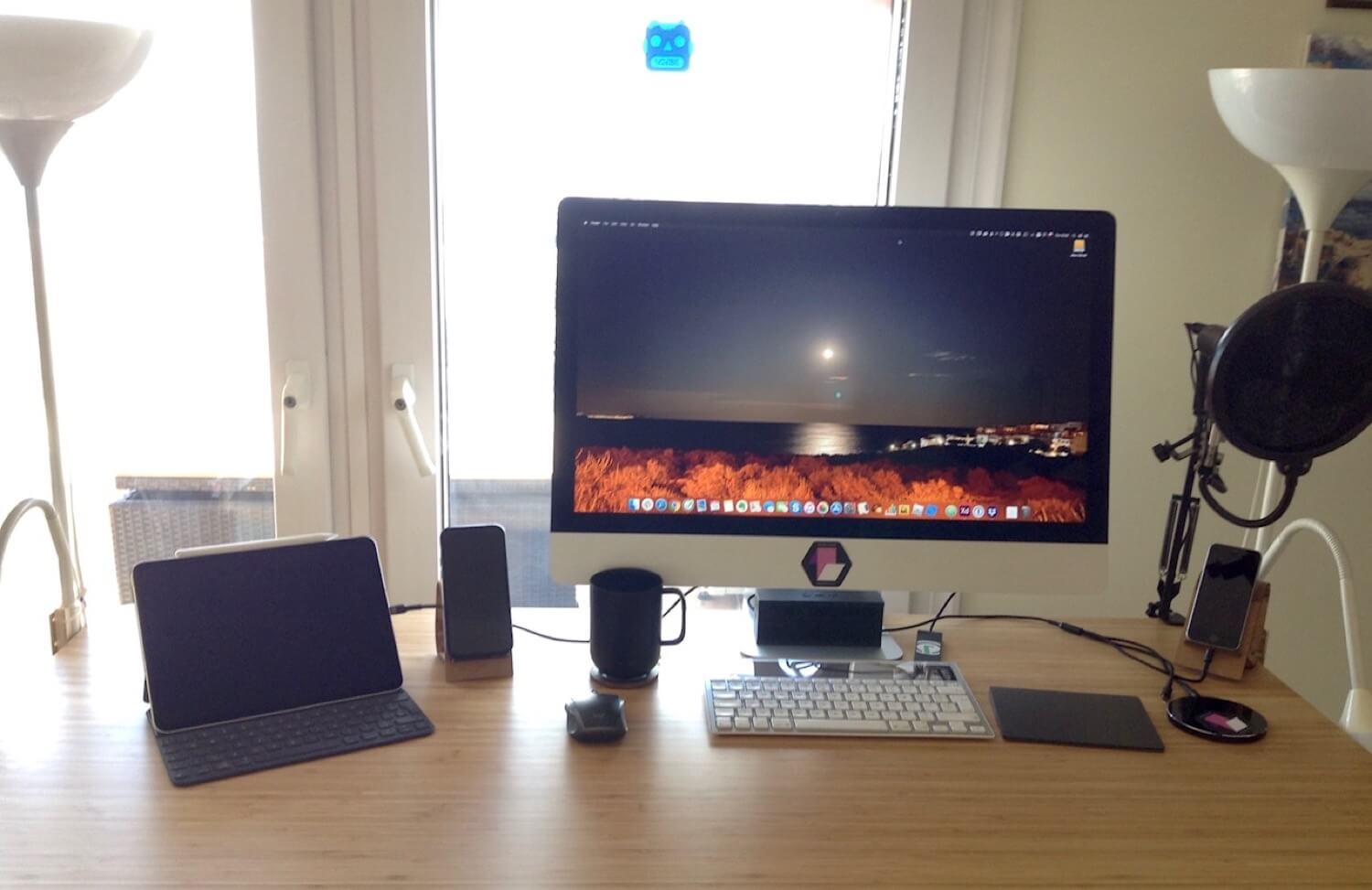 Desk full of devices I need for my daily work 😎
From left to right, here what's on my desk:
iPad Pro 11" - my main computer - I'm writing these words on it.
iPhone 11 Pro - my main phone on a stand made by Radek
5K iMac 27" - it's the late 2014 model which I bought in June 2015… and it's still an amazing computer and great additional canvas to the iPad Pro.
Coffee cup - keeps my drink warm.
Jambox speaker - connected to the iPhone via Bluetooth.
Mouse, Keyboard and Trackpad - I'm right-handed but when I was young I learned to use the mouse with my left hand, so now I have the best of both worlds - a Logitech MX mouse for my left hand, Logitech K760 wireless solar keyboard for typing on the iMac and Apple black trackpad for my right hand.
iPhone SE - which I'm using for Nozbe Teams testing.
Ugreen wireless charger for both the iPhone 11 Pro and the AirPods Pro.
Samson Q2U Microphone for recording The Podcast and Zoom video conferencing.
How I balance my use of the iPad and the iMac?
Short story - I do most of my work (especially writing) on the iPad (that's why my iPad keyboard is so beaten up) while I use the iMac 5K as my "canvas" where I open more additional windows as there's plenty of space on this gorgeous 27" screen.
The iMac may be old, but it was a good spec (it pays off to buy higher-spec machine) - it has 16GB of RAM and 500 GB SSD + 2TB SSD in the back connected via USB 3.0 - so plenty of storage and power - it has all my iCloud photos downloaded and serves as additional local storage.
80% of the time…
It's a simple Pareto principe - 80% of my work time at work I'm working standing at my stand-up desk. And 80% of my work time I'm actively working on the iPad and using all these other devices on my desk as "support system" for the iPad.
Because the cool thing about being #iPadOnly is that at any point in time I can just take the iPad with me and work productively in any other place…
Thursday, January 23, 2020
/desk/