Ask Michael: Which apps do you use and recommend?
AMA (Ask Michael Anything) - is a series of posts I'm running on this blog inspired by hundreds of emails I received from my readers and Nozbe users. Today I'll share the apps I use and recommend, here goes: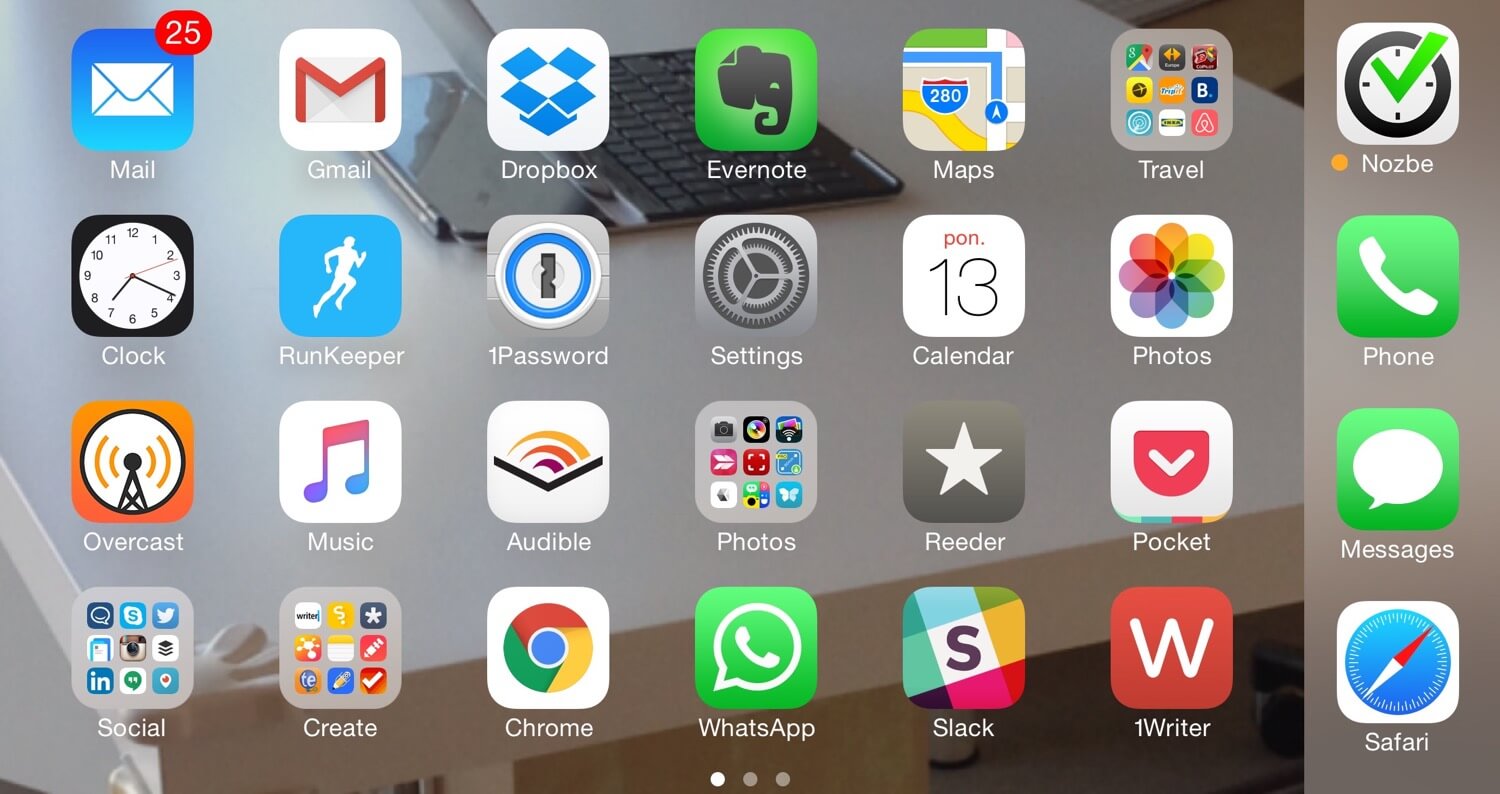 The Big Three: Evernote, Dropbox and Nozbe
I already wrote about it several times, but I use these three apps extensively and I have premium accounts on all of them:
Evernote for notes, documents and other "reference materials"
Dropbox for files
Nozbe (duh!) for projects and tasks
But I use more apps. I wrote about some of them in my #iPadOnly book, but here's an updated list in a semi-random order (as seen on my iPhone 6 Plus home screen):
Mail, Gmail - to check email, I use both. Gmail app has better search. Haven't tried "Inbox" app yet, is it any good?
Maps, Google Maps, Navigon - for navigation - I tend to use the Apple's app a lot more these days.
Runkeeper - for sports, all my trainings are there.
1Password - I store my passwords there, indespensable.
Overcast, Audible - I don't read so much, I listen, to podcasts and audiobooks.
Skitch, My Measures - my favorite "annotating" apps, take a picture and draw on top of it.
Reeder - I still read RSS. I know, it's so 2010.
Pocket - all my "read it later" articles go there, always something to read.
More reading: Kindle, Bible (in Polish: Pismo Święte)
Twitter, Facebook Paper, Instagram and LinkedIn - my social media browsing.
1Writer - my writing app on my iPhone 6 Plus, on my iPad I prefer Editorial. I also use AI Writer from time to time, I love its "focus mode".
Chrome - my "other" browser - over there I'm logged in to Google's services. I'm not logged in to Google on my main browser - Safari.
iMessage - my SMS replacement of choice. Only on iOS or Mac though.
Whatsapp - my other SMS replacement, I love that it connects with people with both iOS and Android devices alike. Hate it that it doesn't have Watch app yet, nor iPad app.
Slack - our chat in Nozbe, we use the free version and we love the "slackbot" :-)
Soulver - my calculator replacement
Notability - something between Skitch and Evernote, use it from time to time.
Grafio - sometimes I need to draw grahps
iThoughts - my go-to mind mapping app, syncs via Dropbox with XMind on the Mac
iMovie - I do all my movie editing on my iPhone. Love it.
IMDB - I'm a movie freak: new releases, trailers… my favorite water-cooler.
Coding group: Prompt, Transit and Textastic - SSH client, FTP client and a code editor.
Office-like apps: I mostly use Numbers for spreadsheets, Pages for formatted texts and Keynote for presentations. I also have MS Office and Google's Drive apps for compatibility.
Whew, this list is not complete, but let's leave it like that. Soon I'll post my new iMac 5K setup where I'll share what I installed on my Mac when I got it.
Question: Which apps or services do you use? Link them up in the comments!